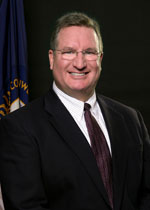 Photo Courtesy WEG 2010
The World Games 2010 Foundation today announced that it has selected Jamie Link as the new Chief Executive Officer of the 2010 Alltech FEI World Equestrian Games.

Link has been serving as Deputy Secretary of the Kentucky Tourism, Arts and Heritage Cabinet since December 2007 and prior to that spent several months as the Deputy Executive Director of the Kentucky Horse Park. In his current role, he has served as an ex officio member of the World Games 2010 Foundation board of directors and has been actively involved in the ongoing construction projects at the Kentucky Horse Park and major vendor selections related to the Games.

"I have watched Jamie participate in many of the meetings and was impressed with his ability to get things done. The planning for the Games is at a critical juncture and we need to have a full time CEO to manage the process for the next 21 months," said John Long, board chairman and acting CEO. "Jamie's familiarity with the Games planning means he will be able to jump in immediately and make an impact."
Long also added that the Games proactively recruited Mr. Link. There was no pressure from the state. In fact, Long said that Secretary Marcheta Sparrow—also a board member—politely reprimanded him for stealing Link.
Secretary Sparrow added "although I am sorry to lose Jamie as my co-worker in state government I am confident in his abilities to lead the Games at this critical time. His knowledge of the Kentucky Horse Park and the importance of this event to our state's image throughout the world is tremendous."
John Nicholson, Executive Director of the Kentucky Horse Park said "having known and worked with Jamie Link for a number of years, I can state with confidence that he is uniquely qualified for this position and I am delighted that he has accepted the Board's offer. Everyone at the Kentucky Horse Park has witnessed firsthand Jamie's uncommon talent, integrity and dedication during his time as Deputy Director. He understands the Park's day-to-day operations and the special needs of the Park for the 16 days of high level championship competition. In addition, it is helpful to have someone familiar with all of our key community and state leaders involved in this project to help streamline our efforts. I look forward to once again having the pleasure of working with him as we build toward, not only this epoch moment in our history, but for the great legacy it will provide."
Link will officially begin serving as CEO on January 12, but has already begun the transition and attending meetings as needed to be up-to-date on all operations when he joins the staff full-time.
For more information on the 2010 Alltech FEI World Equestrian Games, please visit www.feigames2010.org.
Read more 2010 WEG News >>