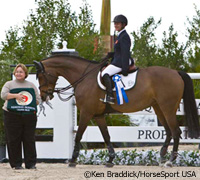 Margie Engle and Hidden Creek's Tosca were victorious in the Equestrian Properties Grand Prix at the Palm Beach International Equestrian Center last Sunday. The Winter Equestrian Festival begins January 7 at the PBIEC.
The finishing touches to a completely remodeled Palm Beach International Equestrian Center were being applied on Sunday in readiness for the opening of the 2009 FTI Winter Equestrian Festival on Wednesday, Jan. 7.
Trucks and trailers filled the streets around PBIEC bringing in horses for hunter, jumper and dressage competitions for 12 weeks of WEF, the largest and longest running horse show in the world. The show will continue through March 29.
Riders working their horses on Sunday at the PBIEC North Grounds, the central location of WEF, were discovering completely new footing in most of the major competition arenas. New longeing and work areas have also been added to the North Grounds, the center of hunter, jumper and dressage competitions and where the first classes of WEF in 2009 will start on Wednesday.
"Footing is our highest priority," said Mark Bellissimo, Chief Executive of Equestrian Sport Productions that manages the horse shows. "Now all footing has been redone in the last year on 14 rings. "We want to set the standard for footing in the industry."
The year-long, $10 million makeover of PBIEC has been designed to create a permanent home for the Winter Equestrian Festival. Construction of permanent, beautiful new spectator areas around the centerpiece International Arena was completed more than a month ago. Additionally, construction of a new vendor village, planting of thousands of trees and plants and new conveniently located bars, restaurants and food and drink vendors is nearing completion.
Buried out of sight but critical to operations have been installation of a show grounds-wide drainage system and new electric and communications infrastructure.
"We're right on track to be ready for the opening of the show on Wednesday," Bellissimo said. "There is absolutely no doubt that we will be ready for the first horses to go into the rings on schedule," he said. "This is the culmination of more than a year of hard work and dedication by our whole team to ensure we provide a showcase that is among the best in the world."
Read more news about the WEF.
Download the WEF prize book here.