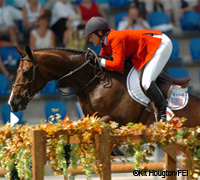 Seven of the world's top riders and their horses take to the show jumping ring in one of the most unique competitions in all of equestrian sport and airing on Animal Planet this Saturday at 3 p.m. ET during the World Sporthorse Championships series.
The show takes place from the OnCenter in Syracuse, NY, a hotbed of equestrian activity, and features 2004 and 2008 Olympic medalist
Beezie Madden
.
Featured this episode will be the Animal Planet Sporthorse Cup. In this event, points accumulate through three separate phases, building towards the final outcome. Riders are allowed to choose between two horses for each phase. First they must master the speed round, jumping as fast and cleanly as possible, followed by the high jump phase, where the bars keep rising until all are eliminated or don't dare to try. In the finale, scores are brought forward from the first two phases to set the stage for the dramatic final show jumping round. Combined it makes for a very exciting and unique show, often coming down to the last rail.
The World Sporthorse Championships
Saturday, January 10
3 p.m. ET
Re-Air Sunday, January 11
10 a.m. ET