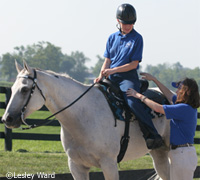 Riding Instructor magazine, the official publication of the American Riding Instructors Association (ARIA), will select 50 oustanding riding instructors for the magazine's Top 50 list. The 2009 winners will be announced on August 1st, and awards will be presented at the National Riding Instructors Convention in Naples, Florida on November 18-21.
"The Top 50 Riding Instructors in America list will give national exposure to some very talented teachers who might otherwise not receive national accolades. While some of the teachers on the list may be nationally known, others will be local heroes in their respective communities, working with riders of all abilities and backgrounds. They are on the front line to help the sport of riding grow," said the magazine's publisher, Charlotte Kneeland.
Nominations must include a biographical sketch (200 words maximum) about the instructor and his/her accomplishments, along with at least two photographs of the instructor. Self-nominations are accepted. Nominations must be submitted by e-mail and must be received no later than March 31st, 2009. To submit nominations, e-mail ARIA@riding-instructor.com
Read more about the ARIA at their official website.
How do you know if your riding instructor is right for you? Read on.