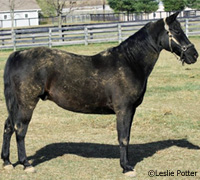 W.F. Young Inc., maker of Absorbine invites horse owners to participate in the Miracle Groom(R) Dirty Horse Challenge. Running now through February, 28, 2009, the company is accepting contest entries via their website at www.absorbine.com. Winners will be announced by the end of March and showcased on the Absorbine website.
A panel of W.F. Young staff will judge the entries on the basis of before and after photos and the variety of Absorbine products used. Five grand prize winners will receive the "Ultimate Groomers Kit," which includes everything a groomer needs to keep their horse's coat shiny. Ten first place winners will receive a gift basket of Absorbine products and 20 second place finishers will get a bottle of Miracle Groom.
"The Miracle Groom Dirty Horse Challenge offers a fun, interactive way for horse owners to tackle dirt and mud while providing benefits to their horse's coat," said Heather Bean, Brand Manager, W.F. Young, Inc.
Miracle Groom is designed to be part of a horse's daily grooming to help maintain a bright and shiny coat without leaving behind a greasy residue. When sprayed directly on a brush it easily wipes away pesky dust and dandruff that gets trapped in the long winter coat or under a blanket.
For more information on Miracle Groom and how to enter the Miracle Groom Dirty Horse Challenge, visit www.absorbine.com.
Read on for more advice on winter grooming.