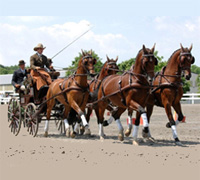 Chester Weber and his horse Jamaica were nominated for Equestrian and Horse of the Year. Winners will be announced this weekend at the USEF Convention.
January 14th kicked off a busy four days of conferences, meetings and awards for the United States Equestrian Federation membership and directors.
Throughout the convention, each of the committees for the breeds and disciplines governed by the USEF will meet. Propsed rule changes for the 2009 competition year will be presented to the Board of Directors. Though the business side of the American horse show industry takes center stage for much of the convention, it is also a time to celebrate, with many USEF honors set to be awarded.
The Performance Horse Registry, a branch of the USEF that keeps track of sport horse bloodlines, will present its Silver Stirrups Awards on Thursday evening.
Horse of the Year will be announced on Friday night at a special awards dinner and reception. Past winners of this prestigious award include the late, great eventing pony, Theodore O'Connor, Hanoverian dressage legend Brentina, and gold medal show jumper Authentic.
Media Awards and athletes recognition take place at a luncheon on Saturday. The Pegasus Awards Dinner will be the place to be Saturday evening when the USEF will recognize the 2008 Equestrians of Honor and reveal which one of them has been voted Equestrian of the Year. Saturday night is also when the popular youth dance takes place.
Join the USEF now or renew your membership to gain voting privileges for next year's Horse and Equestrian of the Year, along with many other benefits.