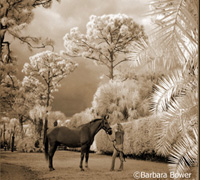 Photo: Sarah Diggin and her horse, Hesse. Courtesy of Equine Artistry by Barbara
Barbara Bower specializes in equine photography, but she does not create your everyday equine portrait. According to Bower, she photographs the "relationship" between man and horse through complex infrared filters in her camera.
Bower, a well known portrait photographer, is a graduate of the Rhode Island School of Photography. When she is not on a shoot she teaches programs throughout the year in animal photography to professional photographers across the United States.
She is the co-author of Infrared Wedding Photography and is the recipient of the Professional Photographer Association's Master of Photography and Photographic Craftsman degree. She also received the Accolade of Lifetime Photographic Excellence from Wedding and Portrait Photographers International for a combination of her print competitions and speaking engagements.
Bower's infrared portraits of human and horse invite the viewer to observe a private relationship. Her unobtrusive entry into their world reveals the feelings most horsemen have about the animals they tend and love.
"I do not want to produce just another horse portrait." said Bower. "Initially, I spend time with the client and the horse, learning what they both have in mind. As I process this information I instinctively 'see' the visual and the rest is technique."
She will be spending the month of February in Wellington, Florida visiting former clients and will be available for a limited number of equine sessions. The focus of her journey south will be to photograph a variety of professional and amateur riders with their horses, before, during and after competition.
Bower will donate a photo session to the silent auction at the Vinceremos Therapeutic Riding Center. She is also photographing the rider and volunteers of the year for the slide presentation at their Annual Benefit Auction, Dinner and Dance held at The Palm Beach International Equestrian Center on February 20th, 2009.
"Equine portraits are my specialty," Bower confirms, "But I also want to photograph riders and their individual disciplines this winter. My photography is about the horse, the human and the importance of their symbiotic relationship."
For more information on Equine Artistry visit: www.equineartistrybybarbara.com.
For tips to take better horse photos of your own, read on.