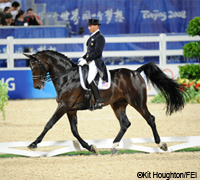 2008 was a pretty good year for Steffen Peters, and 2009 is looking promising as well.
Peters and his Dutch Warmblood gelding Ravel represented the United States at the 2008 Olympics in Hong Kong. The pair turned in outstanding performances in some difficult conditions and ended up a just a breath away from the medals, with a score of 74.15% and a fourth place finish in the individual dressage competition. Originally from Germany, Peters has competed for the United States since 1992, and helped the U.S. dressage team earn bronze in the 1996 Olympic Games in Atlanta. Now, after the announcement at the United States Equestrian Federation convention in Cincinnati, Peters can add Equestrian of the Year honors to his list of accomplishments. This award is voted on by the USEF membership and is considered the Federation's highest honor.
This year's Horse of the Year award went to combined driving star Jamaica. The 18-year-old Dutch Warmblood's incredible story has brought an unprecedented amount of publicity to combined driving, a sport that is not widely-known in the United States. Earlier in his life, Jamaica had a one-way ticket to the slaughterhouse in Europe. Fortunately that trip was intercepted and he was set to begin a career pulling carriages for tourists in Belgium. He proved too hot for that line of work, however, but his energy has served him well since he ended up with champion combined driver Chester Weber. He was the lead horse for Weber's four-in-hand team that captured the silver medal at last year's FEI World Championships, and has helped win the national four-in-hand title for six years in a row. There will be no more uncertainties in this now legendary horse's life story, as Weber has announced that Jamaica will live out his retirement at his Live Oak Farm in Ocala, Fla. once his competition days are over.
Other awards presented included a Lifetime Achievement Award for Gene Mische, former show jumping trainer and founder of Florida's Winter Equestrian Festival. The Sallie Busch Wheeler Trophy was awarded to Cecile Hetzel-Dunn, a lifelong horsewoman who has served the equestrian world as a professor, trainer, instructor, judge and steward in several different breeds and disciplines. Champion saddle seat rider Jessica Moctezuma was awarded Junior Equestrian of the Year, not just for her show ring accomplishments, but for her work with Saddlebred Rescue, an organization that rescues, retrains and rehomes Saddlebreds and other horses that might otherwise be sold to slaughter.