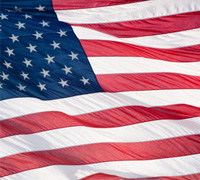 This year's presidential inauguration is a symbol of change in the United States, but the Inaugural Parade maintains its equestrian traditions. Several groups of horses and riders will make their way up Pennsylvania Ave. with the parade after Barack Obama's inaugural ceremony.
Among the equines represented will be ten U.S. Northern Border Patrol Agents mounted on BLM Mustangs. Mustangs are the horse of choice for the Border Patrol thanks to their natural endurance and ability to navigate rugged terrain. To meet the horses and riders who will be marching in the parade, visit the BLM's Wild Horse and Burro Program page.
The Michigan Multi Jurisdictional Mounted Police Drill Team and Color Guard will be making an appearance in the parade as well. This group of 25 riders will be mounted on a variety of breeds and come from all around the state of Michigan.
The Southern Ohio Ladies Aside will be the first equestrian entry to march through. Twenty of the 120 members of this group have been selected to participate. They will be mounted on various breeds, from Arabians to Clydesdales, and dressed in Civil War-era attire.
Culver Military Academy and Culver Girls Academy will send their Black Horse Mounted Troop and Equestriennes all the way from Indiana to ride in the parade. The riders are all students at these two private high schools. This will the the group's 15th appearance in the inaugural parade since Woodrow Wilson's in 1913.
Official inaugural festivities are scheduled throughout the day today, with the Inaugural Ceremonies beginning at 10:00 EST and the parade scheduled for 2:30pm EST. All of the networks and news channels will be devoted to coverage. Check local listings for information.