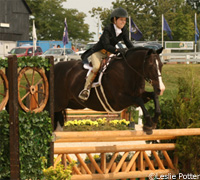 Beginning today, members of the United States Pony Clubs are coming together in South Carolina for the annual convention. Activities are scheduled for Pony Club members, their parents, and club leaders.
From Friday through Sunday, workshops will be available on topics ranging from judging guidelines to horse and stable management to website design. The workshops and seminars will be presented by horse industry professionals from around the country.
The 2009 Research Fair gives Pony Club members a chance to explore a horse-related topic of interest, and then present what they've learned to a panel of judges at the convention. For members who are unable to attend the convention, a category for audio-visual presentations will be judged separately. These projects will be presented in either a display board, or as slideshows or videos. Presentations will take place Thursday afternoon through Friday with judging at the end of the day on Friday.
On Saturday night attendees are invited to the banquet and dance where comedian, actress, dressage rider and Pony Club alumnus Pam Stone will give the keynote address.
The trade fair will go on throughout the weekend, with many organizations and retailers available for some horsey shopping.
The United States Pony Clubs teach children and young adults safe, responsible horsemanship. Membership is open to anyone up to age 25 and horse ownership is not a requirement. To learn more and to find a Pony Club near you, visit www.ponyclub.org.
Read more about Pony Club competition.