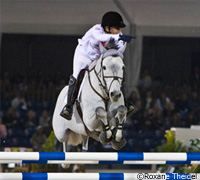 Christine McCrea points at her competitor/husband during the Battle of the Sexes. Photo: Roxane Theidel.
Male against female. Husbands battling wives. Established stars challenged by sparkling newcomers. Olympic gold versus Olympic gold.
The winners were thousands of spectators who turned out Saturday night for the Battle of the Sexes at the FTI Winter Equestrian Festival, the first time for such an event in the
Palm Beach International Equestrian Center
that has been completely remodeled at a cost of $10 million.
For the record, the team of 10 women scored 31 points to win $50,000 shared between them, while the runnersup (males) scored 24 points and collected $5,000.
The teams competed in three contests — a speed class over jumps at about 1.35 meters, a match race in which male and female riders raced their horses over jumps side by side and a six-bar in which each combination jumps a straight line of obstacles that get progressively higher until one wins or they call it quits.
The event was created in hopes of drawing spectators to PBIEC for a Saturday night of festivities that included the opening of a two-story Tiki hut overlooking the International Arena that was bathed in stadium lighting for the occasion. An Argentine asado party to welcome exhibitors to the world's leading winter circuit was held at the same time. So, too, were children's activites including a bounce house, face painting and other fun festivities.
The result was thousands of spectators packed into the International Club, VIP boxes, the exhibitor party in the Special Events pavilion and near capacity general admission seating.
Among the highlights were relative newcomer Casey Hodges, 21, of Aiken, S.C. being the top scorer for the women with 10 points,
equaling Jimmy Torano of Ft. Lauderdale, Fla. Russian Olympian Ljubov Kochetova won both her speed and match races, as did the USA's Olympic gold medalist Beezie Madden of Cazenovia, N.Y. over Canada's Eric Lamaze who won individual gold and team silver at the 2008 Games. The top rider for the combined speed and match races was Candice King of Wellington, Fla. who took home a Nespresso coffee maker in addition to her share of the winner's purse. Jimmy Torano was equal first in the six-bar with Casey Hodges.
In addition to Jimmy riding against his wife, Danielle, Christine and Jonathan McCrea, husband and wife, also rode against each other.