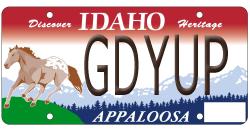 Horse enthusiasts in the state of Idaho can display the state's horse with pride on their license plates. This unique Appaloosa plate is the first United States license plate to prominently feature a state horse along with the name of the breed.
While Idaho residents have the advantage of displaying their enthusiasm for the breed on their bumper, anyone in the world can purchase a souvenir plate. Souvenir plates are only $30 and include free personalization. To order, visit
www.accessidaho.org
, click "DMV," then "Vehicle Services," followed by "Special Plates" and, finally, click on the rotating license plate graphic.
Not only do the plates promote the Appaloosa breed, purchase of a license or souvenir plate helps the Appaloosa Horse Club (ApHC) educate youths about horses. The ApHC receives $20 for each souvenir plate sold; and $25 for each initial registration, $15 for each yearly renewal of the Idaho license plate. These funds are exclusively used for youth education programs, including the Appaloosa Museum and Heritage Center.
Plates are available exclusively through the state of Idaho's official website at www.accessidaho.org.
For more information about Appaloosas visit HorseChannel's breed profile.
To learn more about the ApHC, visit www.appaloosa.com.