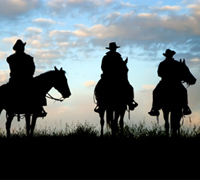 Horse enthusiasts in the Los Angeles area will converge on the Fairplex in Pomona, California this weekend for the 2009 edition of Equine Affaire.
The event brings many top trainers, clinicians and horse experts together for an educational, entertaining event for horse owners. This year's clinicians include Chris Cox, Julie Goodnight, Karen Scholl and Mark Rashid. Lectures and clinics will be offered on a wide variety of topics, including nutrition, equine law, grooming, training and even equine art.
The Youth Pavilion offers activities and clubs specifically for kids attending the event. A main attraction of the Youth Pavilion is the Celebrity Horse Showcase featuring equine movie star Mr. T, who played Sanadar in the movie Dreamer.
Equine Affaire has been a must-attend event for horse enthusiasts since its inception in 1994. Additional events will be held in Columbus, Ohio in April and in West Springfield, Massachusetts in November.
Visit HorseChannel's Calendar of Events to see all Equine Affaire dates as well as other major equestrian events.