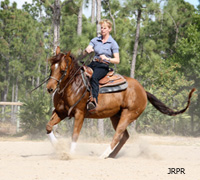 Anky van Grunsven practices her reining moves on Dixie Dynasty. The Dutch rider hopes to compete in the 2010 World Equestrian Games in both dressage and reining. Photo courtesy of JRPR.
Anky van Grunsven, the world's top dressage rider, wowed the crowds at the Exquis World Dressage Masters competition by winning the Grand Prix Musical Freestyle on the black stallion IPS Painted Black. The Dutch rider followed her win by showing the crowd she reigns supreme in other equestrian disciplines when she performed a reining exhibition under the lights at the Palm Beach International Equestrian Center (PBIEC) in Wellington, Florida.
Dressed in full western regalia, van Grunsven looked just as comfortable in a western saddle executing lead changes, stops and reining patterns as she did in her dressage saddle performing piaffes and passages. It turns out that van Grunsven's passion for dressage is followed closely by her new passion for reining.
Van Grunsven, one of the most decorated riders in dressage history, now has her sights set on the 2010 World Equestrian Games where she hopes to compete in both dressage and reining. During her stay in Wellington for the World Dressage Masters, van Grunsven secretly trained with reining experts Jon and Seth Ingram at their Ingram Training Stable in Loxahatchee. She followed up her lessons with a reining demonstration in front of a packed house at the Exquis World Dressage Masters, riding the champion reining horse Dixie Dynasty owned by Jackson Mitich of Loxahatchee.
The Red Barn Feed & Supply in Loxahatchee outfitted van Grunsven in western attire and ThinLine Saddle Pads provided a fancy high tech saddle pad for the occasion. Van Grunsven and her family, including her two children Yannick and Ava Eden, trained for two mornings at Ingram's Training Stable.
The AQHA Journal reporter Tonya Garrison, from Amarillo, Texas, even flew in to watch the number one rider in the world perform her reining demonstration. Van Grunsven's performances – both dressage and reining — turned out to be real crowd pleasers and the perfect ending to one of the most exciting dressage events to take place in Wellington.
For more information on Anky van Grunsven and photos of her reining adventures in Florida, visit her website at www.anky.com. For more information on Ingram Training Stable, visit their website at www.ingramtraining.com.
Watch a video of Anky riding Dixie Dynasty.
Watch the worlds of reining and dressage collide on our video page.