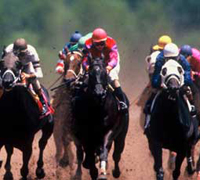 Nearly 10 times a day during the famous 30-day Oak Tree Meet at the Santa Anita Race Track, the world's most skilled jockeys and the boldest thoroughbreds line up at the gate to compete for big bucks or go home broke. Competition comes from across the country and the world in search of elusive winnings all for the love of horse racing.
Premiering Friday, February 6, at 9 PM ET/PT, Animal Planet presents JOCKEYS, a docu-soap chronicling the lives and careers of seven 112-pound jockeys and their 1,200-pound horses. See who crosses the finish line first in the quest to win a share of more than 35 million dollars in purse money at the prestigious Oak Tree Meet.
"The world of the race track is complex and controversial. Horse racing is one of the most popular sports in the country, and this series is charged with the high stakes, big risks, strong personalities and drama of the sport on and off the track" says Marjorie Kaplan, president and general manager of Animal Planet. "It's an intense existence that makes for exciting television."
Audiences get to know the lives of these seven jockeys, their personalities, strengths and flaws. They all have big dreams and even bigger egos and are determined to cross the finish line first — every time.
THE ICON – Hall of Fame jockey Mike Smith is a living legend and a fan favorite. His fierce riding style and stringent pre-race ritual has earned him a shaman-like reputation among fellow jockeys.
THE HOTSHOT – Joe Talamo may be young, but he already has taken the racing world by storm earning nearly $4 million in purse money in one racing season.
THE BREAKOUT FEMALE STAR – Canadian jockey star Chantal Sutherland is a woman who's dominating the tracks. And, because she's dating fellow jockey Mike Smith, it puts her in competition with the man she loves. Can they make this work?
THE WORKING MAN – Aaron Gryder is credited with more than 3,000 career wins and is motivated by supporting his family.
THE ELDER STATESMAN – After racing more than 30 years, Jon Court is the consummate veteran, and he has no plans to quit.
THE NEW GIRL – Fresh-faced Kayla Stra is racing gold in her native land of Australia, but only time will tell if she has what it takes to be a success in the US.
THE COMEBACK KID – Alex Solis bounced back after a broken back injury nearly took his life. He's been to the winner's circle 4,000 times, but he's yet to be inducted into the Jockey Hall of Fame.
For these jockeys, everything they have is riding on the next 30 days at the Oak Tree Meet, which leads up to some of the most important races of the season – The Breeders' Cup, two days of high stakes racing that can canonize a rider's career.
"So little is known about what goes into becoming a jockey, but these athletes couldn't triumph without the strength, speed and spirit of their equine partners," says Kaplan. "I think audiences will be surprised by what unfolds throughout the series."
Get more behind-the-scenes info at the JOCKEYS website >>