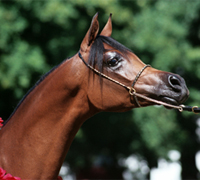 The hottest place to be right now for owners and admirers of the Arabian horse is Scottsdale, Arizona. The 54th annual edition of the Scottsdale Arabian Horse Show, presented by the Arizona Arabian Horse Association, is currently underway.
For those who can't make it to Arizona but still want to keep up with the competition, the show will be available to watch via free webcast at
http://www.iequine.com/
. Scottsdale broadcasts from three different arenas, often simultaneously, so there is something to suit everyone's interests. To find out when your favorite classes will run, view the schedule
here
.
Each year roughly 2,500 Arabian and Half-Arabian horses come to Westworld of Scottsdale to compete for top honors in one of the most competitive Arabian shows on American soil. Classes include traditional Arabian show horse divisions as well as hunter/jumper, dressage and reining divisions. When they're not watching classes, visitors can also enjoy a large shopping area and trade show featuring over 300 vendors.
Scottsdale is the annual kick-off to the Arabian show circuit in the United States and a popular mid-winter hot spot for horse enthusiasts. The show began on Thursday, February 12 and will continue through February 22nd.
Read about last year's Scottsdale Arabian Horse Show >>