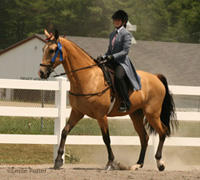 The final details of the second national conference to end soring of Tennessee Walking Horses and all gaited horse breeds have been announced by Friends of Sound Horses (FOSH). Soring is a cruel and illegal practice used to create a flashy gait in the show ring. The purpose of the conference is to bring together a wide complement of experts, research and resources to address alternatives and solutions so that gaited horses do not continue to face this abuse in the future.
The 2009 Sound Horse Conference program includes experts in veterinarian medicine and research, and technology and speakers from the United States Department of Agriculture (USDA). Presentations will include Current Soring Practices, How Access to Information Can Cause Change, Future Plans of the USDA, Gaited Horse Biomechanics and Hoof Structure, The Important Role of the Media in Raising Awareness and much more.
Special highlights include a luncheon with sound trainers dining at various participant tables to share their expertise and knowledge on training sound, gaited horses, a keynote panel consisting of world renowned veterinarian and author, Robert Miller, DVM, and world famous natural horsemanship trainer, Pat Parelli, discussing Humane Trends Impacting the Equine Industry, a natural gaited horse exhibition by local owners of gaited horses and private performance by Pat and Linda Parelli. Conference attendees have the option of a trail ride on gaited horses the day before the conference at EcoFlorida where special arrangements have been made for conference attendees. The conference is March 20 and 21, 2009 at the Paramount Plaza Hotel in Gainesville, Florida with limited space still available.
In addition to FOSH, major sponsors in 2009 include the Alliance to End Soring, American Horse Protection Association, Animal Welfare Institute, Farm Family Insurance, the Humane Society of the United States, the Leslie Desmond International School of Horsemanship, the Morgan Stanley Foundation, the National Walking Horse Association, Nolan Hoof Plates, Parelli Natural Horsemanship, the Tennessee Walking Horse Breeders and Exhibitors Association, Tonka Records, Triple K Bar C Farm, the University of Florida College of Veterinary Medicine, and Vettec.
All gaited horse owners and individuals concerned about the humane treatment of horses are encouraged to attend to learn the latest developments and ideas for recognizing and preventing soring and steps to take to end soring. Continuing education credits for veterinarians and veterinarian technicians will be awarded to conference attendees. To become a sponsor of the Sound Horse Conference or for more information, including an agenda and registration form, please visit www.soundhorseconference.com
FOSH is a national leader in the promotion of natural, sound gaited horses and in the fight against abuse and soring of Tennessee Walking Horses. For more information about FOSH or to become a member, please visit www.fosh.info or call 1-800-651-7993
Read more about the anti-soring movement >>