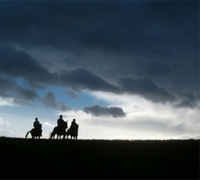 The American Endurance Ride Conference, the official sanctioning body of the sport in the United States, is hosting its annual convention this weekend in Louisville, Kentucky. The convention brings a wide variety of opportunities to all who attend.
Trade Show:
Vendors from across the country will display and sell the latest and greatest innovations for endurance riders Friday from 8:00 a.m. to 6:00 p.m. and Saturday until 5:00 p.m. at the Galt House Exhibit Hall.
Speaker Seminars: Are you and your equine in "best condition"? Hear leading experts in endurance riding as well as equine and rider health at the convention seminars. Topics include pedigrees and performance, colic, equine degenerative joint disease, and drug rules in equestrian sports.
Hot Topics Workshops: John Parke will lead two early-morning open forums. Friday's session will focus on horse welfare; long-range trails planning is the topic for Saturday.
National Awards Banquet: AERC's top riders and equines for the 2008 season will be honored at Saturday's banquet. The Hall of Fame, Pard'ners, and Volunteer Service award recipients, and equines who have reached 5000+ endurance miles will also receive recognition.
Regional Awards: A Friday night ceremony/reception will recognize winners of regional mileage, points, and best condition awards for endurance and limited distance.
Friday Night Dance: A live band will be playing favorite songs for listening and dancing. The dance is always a convention highlight.
Junior Activities. All junior riders are welcome to participate in special activities just for juniors.
Raffles: The popular AERC raffle drawings take place during trade show hours (tickets: $1 each). Drop your tickets in the regional or national buckets lining the raffle stage. Attendees are invited to bring a prize to donate to the raffle.
General Session: This open forum meeting, held Saturday from 10:30 a.m. until noon, offers members an opportunity to speak directly with AERC board members. Election of officers by the AERC Board of Directors will also take place during this session.
International Information: A full schedule of AERC-I meetings is set for Sunday, February 22. More information and a schedule will be available in Endurance News in February.
Committee Meetings: Many AERC committees meet on the weekend of the convention. Committee meeting times will be posted at the convention.
Read more on endurance riding >>