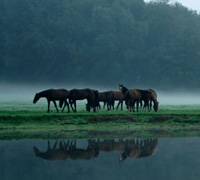 The ASPCA® (The American Society for the Prevention of Cruelty to Animals®) today announced its latest grant recipient, Global Federation of Animal Sanctuaries (GFAS), which will receive a $10,000 grant to support its Equine Sanctuary Site Inspection program.
"At a time when seemingly dozens of equine rescues and sanctuaries have sprung up over the last 12 months – many on shaky footing, it is comforting to know that an accreditation organization like the Global Federation of Animal Sanctuaries will be out there vetting equine organizations and helping them put best practices in place," said ASPCA President & CEO Ed Sayres. "It will certainly help us make sound granting decisions as we distribute approximately $500,000 to equine groups in 2009," added Jacque Schultz, the ASPCA's Equine Grants Officer. "The grants provided by the ASPCA Equine Fund are a way for us to show these organizations how much we value their tireless efforts. We hope the equine-loving public will continue to support the Fund as well, to enable the ASPCA to continue making these grants."
GFAS helps sanctuaries help animals by carrying out an accreditation process to verify that animals are getting the care appropriate for their species and that the sanctuaries are run in an ethical, law abiding, fiscally sound manner and if not, to help them strive to attain that goal.
"While the need for horse sanctuaries is great, and we're encouraged by the expansion of this sector, many are starting from scratch and are seeking the sort of assistance and guidance GFAS can offer. Our goal is to help them develop sound plans and practices to enable a stable future and earn legitimate accreditation," said Patty Finch, Executive Director of GFAS. "It is especially critical to accredit equine sanctuaries in these tough economic times."
The ASPCA's grant, provided by the ASPCA Equine Fund, will cover the cost of 10 GFAS accreditation site visits to equine sanctuaries.
The ASPCA Equine Fund is devoted to promoting humane care and respect for horses, and is an integral part of the ASPCA's Equine Programs. For more information on the Fund and programs, or to apply for an ASPCA Equine Fund grant, please visit www.aspca.org/equine.
Learn how to choose a good horse rescue.
Keep up with HorseChannel's Diary of a Horse Rescue blog.