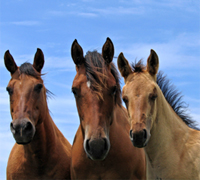 Equine enthusiasts can saddle up for the seventh annual Pennsylvania Horse World Expo, Feb.26 – March 1, at the Pennsylvania Farm Show Complex & Expo Center in Harrisburg.
"Our diverse equine industry significantly impacts Pennsylvania's economy, contributing $10 billion annually and providing more than 20,000 jobs," said Agriculture Secretary Dennis Wolff. "The Horse World Expo showcases this essential industry, treating the public to the best in equine technology, education and entertainment."
The expo features the nation's leading equestrian clinicians and entertainers, hosting educational seminars and exciting programs,including:
"Theatre Equus, A Musical Equine Revue" is a professionally choreographed and scripted show in which people and horses partner to perform various stunts. Shows will take place at 8:30 p.m. Friday and Saturday.
In "The Wind Rider Equestrian Challenge" adult riders from any discipline compete in a four-to-five part course to qualify for the final round – the chance to be paired with a star clinician and the championship title. Preliminary rounds start at noon on Thursday, 10 a.m. on Friday and 9 a.m. on Saturday. Finals will begin at 11 a.m. Sunday.
The Canadian Cowgirls are an elite rodeo-style precision drill team. The group will host seminars on drill team, trick and musical riding at 1 p.m. Friday, 4 p.m. Saturday and 2 p.m. Sunday.
Trick trainer Tommie Turvey Jr., a well-known entertainer and clinician who trains horses to attempt dangerous stunts, will present daily clinics.
Matt McLaughlin, former head trainer of the Royal Lipizzaner Stallions and classical dressage rider, trains piaffe, passage and Haute Ecole using natural horsemanship techniques and English riding disciplines and will present daily clinics.
More than 500 vendors will be in attendance, including the Pennsylvania State Horse and Harness Racing commissions. The commissions are regulatory bodies within the Department of Agriculture that oversee Thoroughbred and harness racing and pari-mutuel activities in Pennsylvania.
The commissions also oversee the Pennsylvania Sire Stakes – a program recognizing the best Standardbred horses sired in the state – and the Harness and Thoroughbred Breeders funds, which rewards the breeders of top horses in Pennsylvania.
Pennsylvania is home to three standardbred racetracks – the Meadows in Washington County, Pocono Downs in Luzerne County and Harrah's Chester Downs in Delaware County – and three thoroughbred tracks – Philadelphia Park, Penn National in Dauphin County, and Presque Isle Downs in Erie.
Pennsylvania Horse World Expo hours are noon to 8 p.m. Thursday; 10 a.m. – 8 p.m. Friday; 9 a.m. – 8 p.m. Saturday; and 9 a.m. – 6 p.m. Sunday. Daily admission is $12 for adults and $6 for children ages 7-12. Children under age seven are admitted free. Tickets for the Theatre Equus start at $12 and are available at the show while supplies last. Parking is $5.
For more information and a complete schedule of events, visit www.horseworldexpo.com. For more information on the Pennsylvania Horse Racing Commission, visit www.agriculture.state.pa.us and click on "Commissions and Councils."