The National Cutting Horse Association held the 2008 NCHA World Finals, on February 12-21, 2009 in Amarillo, Texas. World Champions are announced:
Open World Champion – Ms Peppy Cat ridden by Pete Branch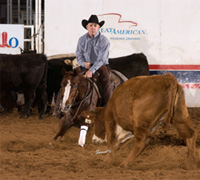 Ms Peppy Cat, owned by Lonnie and Barbara Allsup of Clovis, New Mexico, and Pete Branch of Farwell, Texas won 2008 NCHA Open World championship. The team of Branch and Ms Peppy Cat had already claimed the all-time NCHA record for most money earned in one world championship year on November 21, 2008, having a year-end tally of $122,231.
"I started the year with a bunch of green horses and they just kept getting better," said Branch. He gained momentum with every major stock show. In the end, with Ms Peppy Cat's winnings, Branch and his assistant, Zack Combs, earned nearly $300,000.
"We didn't go to one aged event," said Branch, who was NCHA reserve champion in 1995 on Little Badger Dulce, also owned by the Allsups. "I didn't even know that you could win that much money on the weekends."
Branch counts his win on his first trip to the Calgary Stampede during his record-breaking year, as one of the highlights. "She's just gotten better and stronger all year," said Branch of 7-year old Ms Peppy Cat, by High Brow Cat. "Where most horses fade towards the end of the year, she just got better. I think that's a lot of the reason why she ended up breaking the record."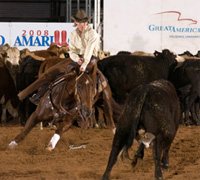 Non-Pro World Champion – Stephanie Haymes-Roven
Stephanie Haymes-Roven of Los Olivos, California, riding A Smart Little Rey, won the Non-Pro World Championship with 229 points in the final round, and earned $82,723.
Haymes-Roven's husband, Chuck Roven, is producer of eight-times nominated blockbuster movie, The Dark Knight. It was Chuck's gelding, A Smart Little Rey, that his wife rode to the world championship. Haymes-Roven needed $35,000 last year to be eligible for the Non-Pro Hall of Fame. She traveled with A Smart Little Rey, by Dual Rey, and 8-year old Travs Smart Kit, by Kit Dual.
"It's been a tremendous experience," said Haymes-Roven, who also finished the year second in the $10,000 Novice Non-Pro division riding Travs Smart Kit. "It's really a once-in-a-lifetime deal. There's a lot of sacrifice and a lot of miles, but you meet a lot of wonderful people."
"I give a tremendous amount of credit to Pete Branch, the Open World Champion," said Haymes-Roven. We hauled together, and I learned so much from him. He was my teacher and my coach. He taught me how to win, and when I didn't win, he taught me how to get over it."
$50 Amateur – Kelsey Conn
Kelsey Conn, age 15, from Conroe, Texas, came into the World Finals ranked second in year-end standings. She rode to the top of the $50 Amateur division riding WRS Lano Badger Cat, scoring 221 points in the first go-round, and 216.5 points in the finals. Her total winnings with World Finals money, came to $45,980.
"It was kind of a long shot, and I didn't really think about it in the Finals," said Conn of her ranking. "The cattle seemed a little faster and harder on him, but he stayed consistent most of the way through the show."
WSR Lano Badger Cat, by High Brow Cat, was a Christmas present to Conn in 2007, and trainer Mike Coleman helped her throughout 2008. "We went every weekend except for maybe two," said Conn. "I'll probably go back to school next year and play basketball."
$20,000 Non-Pro – Kathy Parker Burton
Kathy Parker Burton of Castaic, California, and her horse, Captain Scrumpy, made it through the World Finals to retain their number one standing in the $20,000 Non-Pro division. "It was a long, hard road," said Burton. "We had a lead coming here, but I still was nervous. When you're hauling, it's one run at a time, but being here, the reality of it hit me – I made it."
In her first year to show, Burton and Captain Scrumpy qualified for the 2006 Limited Rider World Finals division ranked second, but went to third in the finals standings. "The idea this year was to get here with enough of a lead that to make it pleasurable, which it has been," said Burton.

$2,000 Limited Rider – Andrea Rudkin
Andrea Rudkin, age 15, from Alberta, Canada, won the $2,000 Limited Rider championship title aboard Isle Be Steady by Smart Peppy Date.
"We started out just wanting to be in the Top Five in Canada," said Rudkin. "Then we started coming down south more and more and thought we'd try for the Top 30 in the World, and it just progressed from there."
"His barn name is Steady Eddie," said Rudkin of her horse, Be Steady. "He tries his best, and he loves cookies."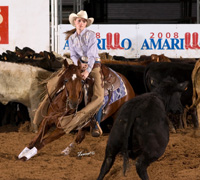 $10,000 Amateur – Hollie Kucera
Hollie Kucera, a college freshman from Atherton, California, added to her winning year in the $10,000 Amateur division by winning the World Finals with a 219-point run on Cici Slippin. She finished the year with a total of $15,660.
"Its been pretty darn exciting," said Kucera of school and cutting competition. "She (Cici Slippin) has taken me everywhere I needed to go. It's not stress on me, its stress on her. She's been out there working."
Kucera became interested in cutting through rodeo competition in high school, and has owned 11-year old Cici Slippin, a mare out of Peppys Deliverance, since the horse was a 4-year old. "I've been doing a little bit of cutting through my four years of high school, but not seriously," said Kucera. "This is my first year of really hauling seriously, and I've learned so much."
Kucera is majoring in electrical engineering at Cal-Poly San Luis Obispo. "I missed four days to come here, so I have a lot to make up," she said of her school work. "Luckily, midterms were last week."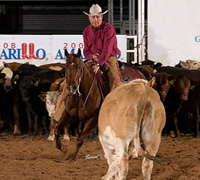 $3,000 Novice Non-Pro – Somebodys Mojo ridden by Jaime Taylor
Jaime Taylor of Ranch Murieta, California, and Somebodys Mojo, by Somebody Smart, won the $3,000 Novice Non-Pro World title, with total earnings of $50,996.
Somebodys Mojo is owned by James and Cheryl Tilton of Orangevale, California. "He's a different horse than I had at the beginning of the year," said Taylor. "We decided at the first of the year we'd go and see how it went. It was quite the adventure."
Taylor hauled with her mother, Cheryl Tilton, and her two children. She also worked at her full-time job as a personnel manager for the Federal Aviation Administration.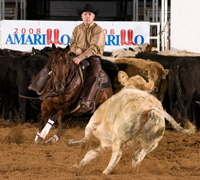 $10,000 Novice – Miss Dainty Cat ridden by Pete Branch
Miss Dainty Cat, owned by Lonnie and Barbara Allsup of Clovis, New Mexico, and Pete Branch of Farwell, Texas clinched the $10,000 Novice World championship with total winnings of $52,420.
"Her lick is running and stopping," said Branch, who purchased Miss Dainty Cat as a yearling for the Allsups. "The main reason I wanted her was because I thought she'd make a good broodmare." The 6-year old mare is out of 1998 NCHA Futurity winner Dainty Playgirl. Miss Dainty Cat will continue her show career this year in limited age events.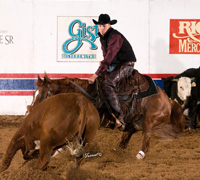 $3,000 Novice – Purdy Aristo Cat ridden by Zachary Combs
Zachary Combs, 21, riding Purdy Aristo Cat, won the $3,000 Novice World Championship. Purdy Aristo Cat, by High Brow Cat, is owned by Lonnie and Barbara Allsup of Clovis, New Mexico.
Zachary Combs is from Granbury, Texas. The Finals tally of winnings was $41,911 for the Allsups.
Purdy Aristo Cat, who was trained by Clint Allen, was sidelined most of her 4-year old year due to a stifle injury. Lonnie Allsup purchased her for a broodmare at the 2007 NCHA Futurity Sale, but Pete Branch, his resident trainer, and Combs decided to return her to showing.
"She's a freak of nature to say the least," said Combs. "She's the hardest stopping horse we have. She stops so hard and moves around so fast, she'll give you whiplash."
Now that the championship is secured, Purdy Aristo Cat will be retired to the Allsup's broodmare band. "She's going out to pasture," said Combs. "She's proven her worth and ability."
$10,000 Novice Non-Pro – Fishin For Bizness ridden by Diane Petersen
Diane Petersen of Millsap, Texas, took home the $10,000 Novice Non-Pro World Championship title, riding Fishin For Bizness, an 8-year old by Show Biz Billy.
"We came in with a lead and clinched it in the first go-round," said Petersen, whose winnings total $50,927.
Junior Youth – Rebecca Jo Williamson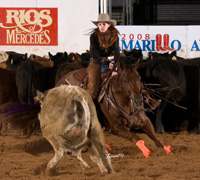 Rebecca Jo Williamson, age 14, of Archer City, Texas, won the 2008 NCHA Junior Youth World championship. This is one of many trophies in the Williamson household.
"It was my last year in the Junior Youth, and I thought it would be fun to go out with a win," said Williamson, who kept her number one standing throughout the year, running neck and neck with Aubrey Pigg, who claimed the reserve title. "It's cool that me and my sister have both won a youth world title," said Williamson, whose sister, Denver Jo, won the 2004 Senior Youth World championship. Dad, Joe Howard Williamson, won the NCHA Non-Pro World titles in 1999, 2004, and 2006, and Denver Jo also won the $50,000 Amateur in 2006.
Rebecca traveled with her parents during the school year, and with Candace and Jeremy Barwick during the summer. She will move to Non-Pro competition this year, and her goal is to qualify for the 2008 World Finals, which will be held for the first time during the NCHA Futurity in Fort Worth at the end of the year, and will be limited to the top 15 Non-Pro riders.
"I'll try to show enough to get qualified," she said. "But I've gotten into bucking bulls, and I'm going to start working with them some, too."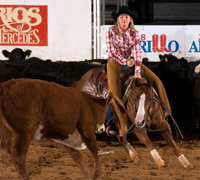 Senior Youth – Priscilla Crawley
Priscilla Crawley, of Unadilla, Georgia, only missed a few weekend shows while attending Georgia Southern University full-time last year, and her quest was rewarded by winning the 2008 NCHA Senior Youth championship on Trickalenas Choice. The 19-year old marketing major gives credit for her accomplishment to other people.
"I really thank Mr. Daniel Keene, who so graciously let me take his horse last year," said Crawley, referring to Trickalenas Choice by SR Instant Choice, Keene's 8-year old gelding and Crawley only mount during her campaign year.
Crawley's father, Charles, who is someone else receiving credit along with her mom, Judy, originally bought Trickalenas Choice as a yearling, trained him, then sold him to Keene. "He's a dynamic horse", said Crawley, who also won the 2008 NCHA Senior Youth Eastern National Finals and the 2008 NCHA Summer Spectacular, Senior Youth Scholarship Reserve championships on the gelding.
"Most horses won't hold up all year long, especially showing in the youth all year on bad cattle. But there were very few times that I lost a cow last year. We got points at ninety percent of the shows we went to."
There is another person to whom Crawley gives credit. "I want to thank Steve Scott for putting fresh cattle in the Youth for the cutting shows in Geneva," she said. "His was the only place where I went that had fresh cattle for the Youth. It was so nice and refreshing."
Crawley was able to show east of the Mississippi throughout much of the year. "A lot of people think it can't be done, but I wanted to try and get as many points as I could back home," she said. "All of the people in Areas 18, 22, and 16, where I mainly show, were all a big support."
Included in supporters were boyfriend, Ty Tyson, and his parents, Doug and Bonnie, who cut, too. "They hauled with me a lot," said Crawley. "And Ty went with me a lot, especially after I started college and a lot of the shows were two hours further away."
This year, Crawley is planning a less strenuous schedule. "I am not trying to haul for anything this year," she said. "I won't completely quit, but I want to back off and get school finished."
Read about previous NCHA Finals: