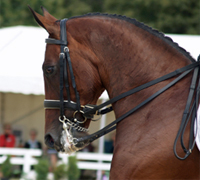 Jane Hannigan, who represented the United States Dressage Team at the 2008 World Cup Finals, will perform a unique freestyle at this year's Challenge of the Americas (COTA). The music used during the freestyle will feature artists that have survived breast cancer, such as Sheryl Crow, Melissa Etheridge, and Anastacia. The Challenge of the Americas is an annual fundraising event for Breast Cancer Research, which features the top dressage riders from across the country. This year's event will be held at the International Polo Club March 7, 2009.
When asked to donate her time to the event, Hannigan was very quick to agree. She also participated in a similar fundraiser in Virginia. Hannigan will be riding her 15-year-old Warmblood, Maximilian. "I've had him since he was six, and I trained him myself," she explained. "Max is great in crowds. Events like this are when I have the most fun riding him. Now I just need ideas on how to dress him in pink, which will be a lot of fun. I'll have help from my nieces too, who are five and seven-years-old"
Hannigan explained, "My grandmother, Doris, had breast cancer and survived the chemotherapy. This is a cause that hits home. She survived because of the research that they've been doing all along. It's something that is really needed."
Mary Ross, Founder of the Challenge of the Americas, is thrilled about this new addition to the event's line-up. "I think this will really help get the message across about why we host the Challenge every year," she said. "This is the first time we will be adding a performance like this to the lineup. I feel honored that Jane Hannigan agreed to perform, and it's extra special because breast cancer research is a cause that is an important cause to her. This event is about more than the competition; it is about raising money for a truly worthwhile cause. If we can have fun while we do it, that makes it even better!"
The Challenge of the Americas is celebrating its eighth consecutive year. The event will feature performances by top equestrians Susan Jaccoma, Oded Shimoni, John Ingram, Ashley Holzer, and Courtney King.
The main event each year is the quadrille competition between Team Purina Mills USA, and Team International: The Seley parker Group of Merrill Lynch. Team Purina Mills USA will include: Betsy Steiner, Pamela Goodrich, John Zapati, James Koford, Chris Hickey, and George Williams. Team International: The Seley Parker Group of Merrill Lynch will include: Marco Bernal, Patrick Burssens, Heather Bender, Shannon Dueck, Katherine Bateson-Chandler, and Juan Matute.
The two teams spend six weeks preparing for the big event. Choreography and music are kept a secret from the opposing team until the performance begins. "This year is going to be supreme. It's going to be really good and very exciting. We're going to rock the house!" said Team Purina Mills USA choreographer Terri Gallo.
The Challenge Gala, an elegant evening of dinner and dancing, will get underway immediately following the competition. An awards presentation will be featured and guests will have the chance to meet and socialize with riders and judges.
2009 Challenge of the Americas – Ticket and Table Reservations
To make reservations for the Challenge Gala & VIP Box Seating, contact Mary Ross at 561-852-2591. General Admission tickets can be purchased at the gate on the evening of the event.

For more information on Challenge of the Americas, please visit www.challengeoftheamericas.com.
Read more about what equestrians have done to help find a cure for breast cancer: