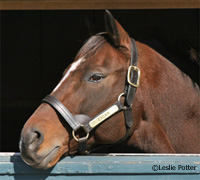 Two-time Horse of the Year Cigar greets Kentucky Horse Park visitors from his retirement home in the Hall of Champions.
The Kentucky Horse Park's 31st season is set to begin Sunday, March 15, when the park returns to its regular hours of 9am to 5pm daily through October 31.
Highlights of this season will include test events for the
2010 Alltech FEI World Equestrian Games
. The test events will be world-class competitions, meant to allow top competitors an opportunity to bring their horses to the park to compete in exactly the same venues where they will compete in 2010.
In addition to literally dozens of horse shows, dog shows, special breeds weekends and other events, the Kentucky Horse Park will offer several special museum exhibitions including "Arte en la Charreria: The Artisanship of Mexican Equestrian Culture," June 19-September 11. This exhibition will contain more than 340 examples of the excellent craftsmanship and design distinctive to the Mexican cowboy, highlighting the very essence of the Mexican experience exemplified by the culture of the charro, or Mexican cowboy.
Exhibitions scheduled in the International Museum of the Horse for the 2009 season include: horse photography by Scott Trees; the work of track artist Fay Moore; and A Gift from the Desert, the art and history of the Arabian breed.
Daily equine presentations include the Parade of Breeds and the Hall of Champions. Current Hall of Champions residents include Kentucky Derby winners Alysheba and Funny Cide, 1995 and 1996 Horse of the Year Cigar, two-time Breeders Cup Chapmion Da Hoss, World Champion 5-Gaited American Saddlebred CH Gypsy Supreme, and Standardbred Pacing Triple Crown winner Western Dreamer.
Educational classes and youth riding programs will be offered once again through the park's education department.
The Kentucky Horse Park was established in 1978 by the Commonwealth to showcase Kentucky's equine heritage. Bluegrass-area Thoroughbred farms had long been a draw for tourists, but as more and more of them closed their gates to visitors, the horse industry became less accessable to the general public. The Horse Park began as a place for visitors to Kentucky to experience a working horse farm. Through the past three decades the park has become an in-demand competition venue as well as a popular tourist attraction.
Visit kyhorsepark.com for more information about the park and a calendar of events for 2009.