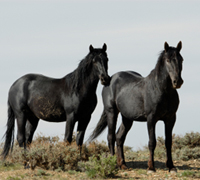 The Mustang Heritage Foundation is doing what no other horse related organization in the nation has attempted – give a horse to a trainer for 90 days and guarantee $700 in payment, with the promise to help market the trainer and the horse to the public.
"This is the answer for many of our nation's talented horsemen who are losing customers or have customers who can no longer pay to have their horses trained," said MHF Executive Director Patti Colbert. "Through the Foundation's Trainers Incentive Program (TIP), horsemen can receive up to four
mustangs
, gentle them and place them for adoption in a period of 90 days and receive $700 for each horse."
Colbert added that the $700 creates a trickle down economic effect throughout the agriculture market through the continued purchase of grain, hay and horse care products.
Monett, Mo., horseman Chad Kelly has reaped the benefits of being involved with the program. Since becoming a TIP trainer in 2008, Kelly has placed more than 40 mustangs for adoption throughout Missouri and the Midwest and has earned more than $50,000 in TIP incentive funds.
"I got involved with the program after competing in the first Extreme Mustang Makeover in 2007," said the horseman who was also tapped to compete in the Fort Worth Stock Show's Mustang Magic. "There is a ready market for the mustang as people are interested in their very hardy nature and uniqueness to our nation's heritage. Most of the horses I have placed for adoption have stayed with me afterwards to continue their training or they are close by where the adopter can come and learn more about the training the horse has received. It's been a win-win for everyone. These folks get a horse that's been started pretty well for less than they would pay for some others and I often gain a new customer."
In order to qualify, certain criteria must be met to satisfy Bureau of Land Management (BLM) regulations, which is responsible for the management of more than 30,000 wild horses roaming public lands. Mustangs are periodically gathered and removed from herd management areas (HMAs) and are placed for adoption across the country.
The most vital of criteria, among others, are that TIP trainers must be at least 18 years, must have a track record of using natural horsemanship training methods, have facilities that meet BLM requirements, as well as no history or convictions for abuse of animal.
To obtain a full description of the program and to apply, visit mustangheritagefoundation.org.