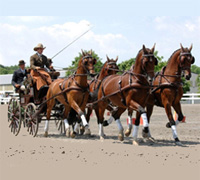 Combined Driving champion Chester Weber was one of the 2008 USEF Equestrian of the Year nominees.
Drivers from around the world will be competing in Florida this weekend at the Live Oak Combined Driving Event, one of the premier CDEs in the world and the most prestigious in the United States.
Combined driving consists of three phases similar to three-day eventing. The first phase is a driven dressage test, which begins at 9:00 on Thursday, March 19. The marathon phase is held on Friday. This phase tests the teams' agility and stamina as they navigate a course of cross-country obstacles. The final day of competition is the cones phase where drivers navigate through a course of gates in an arena. All three phases will be broadcast live at HorseTV.com and will also be available for viewing after the event.
In addition to world-class equestrian competition, Live Oak hosts a classic car show on the final day of competition. Sunday, March 22nd will also bring the Live Oak International YMCA 5k and 10k road races. The weekend will conclude with a horsemanship demonstration by Pat Parelli.
Proceeds from admissions to Live Oak go to the Marion Therapeutic Riding Association.
Learn more about the Live Oak CDE at CAILiveOak.com.