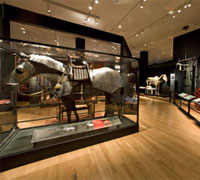 The Horse, a comprehensive exhibition on the enduring bond between horses and humanity, opened at Carnegie Museum of Natural History on Saturday, February 28 and remains on view until May 24, 2009
Carnegie Museum of Natural History presents the acclaimed exhibition The Horse, an in-depth look that showcases spectacular fossils, models, dioramas, and cultural objects from around the world.
The exhibition also shows how horses have influenced civilization and major changes in warfare, trade, transportation, agriculture, sports, and many other facets of human life.
"The Horse provides visitors with a rare opportunity to understand the sweeping history of this beloved animal," said Dr. Sandra Olsen, Curator of Anthropology at Carnegie Museum of Natural History and co-curator of The Horse. "From its origins more than 50 million years ago, through its relationship with humans over the millennia, to its roles in modern society, the horse has left an indelible mark on our world."
Dr. Olsen is one of the foremost authorities of early horse domestication and uncovered the site of the oldest-known settlement with domesticated horses. Her research is featured in the exhibition with a video presentation.
The Horse was organized by the American Museum of Natural History, New York (www.amnh.org), where it was first exhibited for most of 2008. After Carnegie Museum of Natural History, it will travel to the Canadian Museum of Civilization, Gatineau-Ottawa; The Field Museum, Chicago; the Abu Dhabi Authority for Culture and Heritage (ADACH); and the San Diego Natural History Museum.
The Horse offers numerous interactive stations throughout the exhibition inviting visitors to touch casts of horse teeth and hooves as well as a full-size bas-relief of a horse against which visitors can measure themselves. Activities invite visitors to measure their strength in horsepower, and discover characteristics of many different breeds of horses on a computer interactive. Visitors can examine different gaits of a horse by looking through a zoetrope—a precursor to the modern movie projector—at the revolutionary series of photographs taken by the famous photographer Eadweard Muybridge.
Videos include an interview with Dr. Olsen on recent discoveries of horse domestication in Kazakhstan as well a short film examining the enduring bond between humans and horses. Throughout the exhibition, visitors are quizzed to identify objects such as a Roman horseshoe, a stirrup, a bridle ornament, and a whip used in buzkashi, a polo-like sport played in Central Asia.