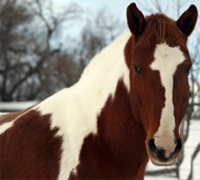 The American Paint Horse Foundation's mission to "improve lives through the power of Paints," was strengthened recently, when the charitable organization reached its goal of raising $25,000 to start a therapeutic riding fund.
In only six months, the Foundation identified the need, set a goal and met its primary objective to raise the money and get its initiative funded. Funds will be used to support therapeutic riding programs for children and adults so they can experience the healing power of horses. Therapeutic riding has proven to be effective for both physical and mental rehabilitation.
Through past support of various therapeutic riding programs and organizations, including the North American Riding for the Handicapped Association (NARHA), the Foundation discovered that many riding centers expressed a special interest in American Paint Horses.
"We have found the riders at Rocky Top Therapy Center to be more attracted to the Paint Horses, primarily because of their variety of colors and patterns," said Doug Newton, president of Rocky Top Therapy Center in Keller, Texas. After other centers expressed similar sentiments, the Foundation began to raise awareness, and at the same time, look for ways to raise money for assisting therapeutic riding centers and their important work.

The Foundation found a way to raise awareness, and money, last summer with a random act of kindness from the Oklahoma Paint Horse Club. Kevin Hardcastle, president of the club, stepped forward in May 2008 with a $10,000 check his club had raised to support therapeutic riding.
Hardcastle was soon named chairman of the American Paint Horse Foundation's therapeutic riding program and by fall 2008, the group received donations from other generous American Paint Horse Foundation donors, which allowed the fund to grow to more than $12,000. Then, Judy Ford of L as Vegas, Nevada, who is an American Paint Horse Foundation Board member, lifetime APHA member, and nationally renowned Paint Horse breeder, joined the cause. Ford volunteered to serve on the new Therapeutic Riding Committee and challenged the board to set a goal. The benchmark was set at $25,000. At a recent meeting, Hardcastle said he felt confident that his club could come up with $6,000 at its year-end show in Okahoma City, leaving $7,000 to be raised to meet the $25,000 goal.
"Then you've got it," said Ford, "pledging to cover the balance." Ford Show Horses (consisting of Judy and husband, Tommy) came through with their $6,000 pledge and Hardcastle recruited other sponsors for an additional $1,000.
The Oklahoma Paint Horse Club, through its successful Holiday Classic Show in Oklahoma City came up with the $6,000 that Hardcastle projected, and the $25,000 goal was met.

"In six months, the Oklahoma Paint Horse Club, Kevin Hardcastle, Judy and Tommy Ford and numerous donors across the country they recruited helped us make history," said Jerry Circelli, director of the American Paint Horse Foundation. "This is the first chapter in a book that will continue to unfold as our Foundation improves lives through interaction with American Paint Horses. We'll be forever indebted to these 'pioneers' of our first-ever therapeutic riding fund."
Currently, the American Paint Horse Foundation and its Therapeutic Riding Committee have several ambitious plans underway to continue its fundraising to support the program. It is also developing an application system for awarding grants to centers and individuals in need of funding.

More about the American Paint Horse Foundation
The American Paint Horse Foundation is the heart of the American Paint Horse Association (APHA). It uses the power of Paints to inspire people to better their communities and educate our youth. The Foundation is dedicated to preserving the heritage of the American Paint Horse and ensuring it remains a healthy, vibrant and respected part of our culture.

For details on how you can become involved in this noble effort to improve lives through the "Power of Paint Horses," call the American Paint Horse Foundation at (817) 834-2742.