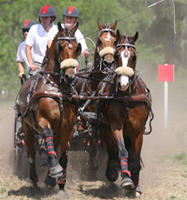 Photo Courtesy Elisabeth Weber
Combined driver Chester Weber continued his winning streak at the prestigious Live Oak International Combined Driving event by driving away the winner of the Four-In-Hand FEI Horse Team. The world class qualifying competition draws top competitors to Ocala, Florida, each year, and is considered to be one of the premier combined driving events in North America.
Weber, who has his sights set on qualifying for the 2010 World Equestrian Games in the Four-In-Hand division, won all three phases of the Live Oak competition: dressage, marathon and cones. "I am really pleased with this win because it is the biggest FEI show of the year," Weber said.
Weber's team consisted of Reno W, Rolex W, Para, Senate and Boy W. Five year old Reno W, a new shining star on Team Weber, rose to the challenge of the difficult courses. Weber's USEF Horse of the Year, Jamaica, took time off to give Reno W the chance to prove himself.
"Winning over the second place team by more than 30 points demonstrates my team's continued preparedness to compete at the top of the international level," Weber said. "Moreover, using a five-year-old in the lead over the three days insures that Team Weber's depth continues to grow."
Weber, who was recently named a 2008 Equestrian of Honor by the United States Equestrian Federation, was pleased with the weekend and said he looks forward to continuing his quest for the World Equestrian Games. Weber, who has become a driving force in the world of international combined driving, believes even young Reno W will be up for the pursuit. "Reno W is a promising newcomer to support the group for WEG."
The Live Oak competition served as a selection trial for the USEF and for the 2009 FEI World Driving Championships. For the first time in 17 years, the competition was captured on tape and will be broadcast to equestrian enthusiasts at HorseTV.com.
"It's wonderful that fans will have the opportunity to watch the competition on HorseTV," Weber said. "Live Oak is one of the best driving events in the country and fans will certainly enjoy the thrill of combined driving."
Weber experienced a banner year in 2008, as he and Jamaica finished the year with top honors from the USEF. Weber also became the first American to win an individual medal at the Four-In-Hand World Championships in The Netherlands. In addition, Weber started off 2009 on a winning note, capturing the Four-In-Hand title at the Sunshine State FEI Combined Driving Event in Ocala.
For more information on Weber and his combined driving team, visit their website at www.chesterweber.com.