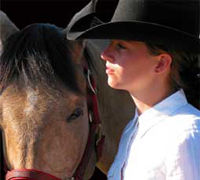 This year's AYHC Symposium brings teachers and industry professionals together with teen leaders and adult leaders of youth horse programs to discuss important topics related to the equine industry.
The symposium kicked off Friday with a tour of horse farms in the Lincoln area, sponsored by the American Association of Equine Practitioners.
Some of the presentations offered for participants include public speaking, careers in the horse industry and veterinary medicine, show ring trends, and rider fitness and nutrition. Roundtable discussion topics include equine nutrition, team building for youth clubs, ask a judge, and the unwanted horse problem.
In addition to the classroom presentations, participants will attend live demonstrations at the University of Nebraska Equine Science complex. Presentations include Arabian cutting horses, working ranch horses, and longe line exercises to improve riding.
On Saturday evening, the AYHC will present its annual awards, including Youth Leader and Student Leader of the year.
The American Youth Horse Council was established over thirty years ago to promote youth involvement in horse activities. The council seeks to help adult leaders of youth equine programs network and gain access to quality educational resources. To learn more, visit www.ayhc.org.