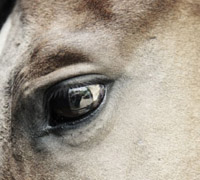 Recent flooding in North Dakota and Minnesota has forced many residents to evacuate, leaving some horses and other animals in need of temporary shelter.
The Equine Welfare Alliance (EWA) has provided the following information to help equines and other pets. They encourage everyone to contact and help the following organizations with their rescue and relief efforts.
1) Colleen Cheechalk, from Special Horses, has posted information on assistance on their website, www.specialhorses.org. Special Horses is working with the North Dakota State University Equine Department who is organizing the evacuation for flood victims in their state. A fund for equine victims has been established in cooperation with the University. Donations can be made directly to:
NDSU Development Foundation
Flood Horse Victims
1241 N. University Drive
Fargo ND 58102
On-line donations can be made @ /redirect.php?location=http%3a%2f%2fwww.ndsufoundation.com%2f.
Note: select "other" and note Flood Horse Victims. The University is also asking for donations of hay, trailering, supplies and temporary housing.
2) The International Fund for Animal Welfare (IFAW) has also established emergency relief. IFAWs Emergency Relief Manager, Dick Green and Fred O'Regan, estimate that there may be over 3,000 animals in need of temporary shelter, food, medical care and clean water. IFAW is also assisting with dogs and cats that may have been left behind during evacuations or separated from their owners.
To send an emergency donation to assist with the rescue efforts, please visit IFAW's secure site for on-line donations at:
/redirect.php?location=https%3a%2f%2fwww.ifaw.org%2fifaw_united_states%2fdonate_now%2findex.php%3fmsource%3dDR091001001%23x
3) The Fargo-Moorhead (F-M) Humane Society has established an animal rescue area at the Red River Valley Fairgrounds in West Fargo. To contact the F-M Humane Society to help with their efforts, please call 701.281.1574. They are currently in need of hay and grain and human food for their volunteers. They indicated they are okay on volunteers, cat and dog food, water and bleach but please check as that could change as the numbers of rescues increase.
A group of volunteers are making a run to Fargo from Minot on Friday, April 3, 2009. There will be a stop in Bismarck to drop off donations for Triple H Miniature Horse Rescue. The supplies currently needed for Fargo are; cat litter, cat litter pans (litter boxes) cat litter scoops, cat food, dog food, jugs of water, horse feed and hay, horse salt block, newspapers, blankets and sheets, any size and color and of course, monetary donations.
The staging area for the drop-offs is:
Souris Valley Animal Shelter
1935 20th Ave SE
Minot ND 58701
701.852.6133
Please notify the staff that donations are for Fargo Rescue.
4) The Red River Zoo (Fargo Zoo) is taking exotics that have been displaced. Please call 701.277.9240 for additional information.
The EWA along with Special Horses, North Dakota State University, IFAW and the F-M Humane Society are hoping to ease the concerns of owners for their four legged friends during this difficult time for North Dakota and Minnesota residents.
Read more about emergency preparedness.