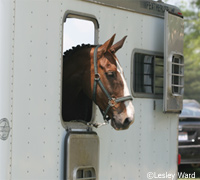 Are you eager to compete with your horse this season, but have no way to transport him to shows? Do you have an extra space on your trailer? Or do you just want to save money this season by splitting the cost of gas? The United States Equestrian Federation's ClubEquestrian has a new program that can help.
In an effort to help equestrian enthusiasts and competitors to save money in a tight economy and to promote eco-friendly horse transportation, the USEF now presents the Ride Share Program on ClubEquestrian.com.
Often the logistics of long-distance travel is an unforeseen roadblock in the path to equine events. This new tool allows equine enthusiasts and competitors to post information about open trailer spots as well as inquire about rides. Information such as where a trailer is leaving from, open trailer space and potential layovers will be readily available.
ClubEquestrian members with space on their trailers can post the dates of travel along with their starting point and destination. Members seeking transportation for their horses can browse through listings or post a "Ride Request" listing of their own.
Check out the Ride Share Program at www.clubequestrian.com/tools/rideshare.
Follow these tips for safe horse hauling.
Overcome trailer training problems.