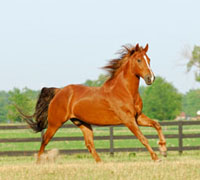 Representatives from dozens of national and state-based equine protection, advocacy and rescue organizations gathered April 9 and April 10 at Bally's Las Vegas for the third annual Homes for Horses Coalition Conference to discuss the re-homing of at-risk horses in America and other equine welfare concerns.
The conference was held in conjunction with The Humane Society of the United States' Animal Care Expo, which included two equine welfare workshops on Wednesday, April 8. Immediately following Homes for Horses 2009, coalition member Best Friends Animal Society hosted an "Equine Sanctuary Basics" workshop April 11 and April 12 at Best Friends Horse Haven in Kanab, Utah.
"The equine rescue community in the United States is hard at work every day to provide care and futures for America's homeless horses, and the Homes for Horses Coalition helps this community to excel in its mission" said Keith Dane, The HSUS' director of equine protection. "Coalition members attending this conference were provided with many ideas and tools that will enable them to ensure that every horse has a home, and no horse must ever endure neglect, abandonment or the horrors of being sent to slaughter."
Formed in 2007, The Homes for Horses Coalition is dedicated to ending horse slaughter and other forms of equine abuse while promoting growth, collaboration and professionalism in the equine rescue and protection community. Sponsored by The HSUS and the Animal Welfare Institute, the conference featured a wide range of equine protection issues including: innovative programs for re-homing at-risk horses; fundraising strategies; community outreach; emergency preparedness and a new accreditation program for equine rescues and sanctuaries.
"This year's conference truly marked a turning point for the equine welfare community," said Liz Ross, the Animal Welfare Institute's federal policy advisor. "With the announcement of a forthcoming accreditation program for equine rescues and sanctuaries and wide participation from a diverse range of groups, we are moving towards an increased level of professionalism and wider reach in our work to aid at-risk horses."
The Homes for Horses coalition member organizations represent a wide array of equine welfare organizations including equine rescues, sanctuaries and retirement homes, as well as programs that work directly with children, law enforcement and community groups to provide second careers for at-risk horses. All of the coalition's members are active supporters of The Prevention of Equine Cruelty Act of 2009 (H.R. 503/S727), which, when passed, will prohibit the slaughter of horses for human consumption in the U.S. and the export of American horses for slaughter. To learn more about the coalition, please visit homesforhorses.org.