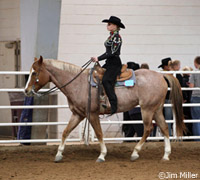 From April 23 through the 26, some of the top equestrians from North American colleges and universities will compete for championship titles at the IHSA National, held this year in Murfreesboro, Tenn. Riders compete in hunt seat equitation on the flat and over fences, western horsemanship, and reining.
Riders in IHSA competition draw horses provided by the host school and do not warm up before entering the ring for competition. Riders are judged on their equitation, horsemanship and ability to effectively ride a horse they have not ridden before.
The highest honor an English rider can win at the IHSA National is the Cacchione Cup, named for IHSA founder Bob Cacchione and awarded to the rider with the highest points in open over fences and flat classes. Last year's winner was James Fairclough II from Drew University.
The AQHA high point trophy is awarded to the rider earning the most points from rail and reining classes. Last year's winner was Katelyn Morehead from Findlay University.
Riders for both the Cacchione Cup and the AQHA trophy qualify for Nationals by winning their IHSA regional championship.
Riders vie for national awards in individual and team competition. The University of Kentucky team won the English team championship at the 2008 National and Ohio State University earned top Western honors. Both teams have qualified to defend their titles at the 2009 National.