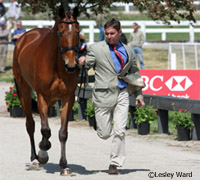 Last year's winners Phillip Dutton and Connaught will be defending their title at the 2009 Rolex Kentucky Three-Day Event. Photo by Lesley Ward.
Hordes of spectators have begun arriving at the Kentucky Horse Park (KHP) in Lexington, Ky., to watch the only four-star three-day event in the Western Hemisphere. The KHP will also be the site of the Alltech FEI World Equestrian Games next fall.
A field of 50 horses is set to begin the dressage phase today. Riders presented 52 horses at Wednesday's first horse inspection, but two riders decided to withdraw their mounts after the three-member ground jury held them for re-inspection.
The event draws more than 100,000 spectators and millions more via worldwide telecasts, including a one-hour special in the United States on NBC airing Sunday, May 3.
This year's field will include riders from nine countries in addition to the U.S. The two horses withdrawn were both American entries: Orion (Craig Thompson) and ESB Irish Doctrine (Ashley Leith).
Just prior to the first horse inspection, more than 250 people gathered at the KHP for a ribbon-cutting ceremony to officially open the rebuilt outdoor stadium, where dressage and show jumping will be contested during the Rolex Kentucky Three-Day Event. The brand-new grandstand seats 7,000 fans. The stadium's total capacity during the World Equestrian Games will be 30,000.
Among the speakers and dignitaries present were KHP Executive Director John Nicholson; Kentucky Governor Steve Beshear, First Lady Jane Beshear, Lexington Mayor Jim Newberry, Robin Cravens (president of Equestrian Events Inc.), Janie Atkinson (the Rolex Kentucky Three-Day Event event director), John Long (chief executive officer of the U.S. Equestrian Federation), and Jamie Link (chief executive officer of the Alltech FEI World Equestrian Games).
Nicholson called the new stadium "an elegant solution to what was a dilemma," since it will be a perfect competitive centerpiece for the 2010 Alltech FEI World Equestrian Games, yet be suitable for the dozens of competitions held annually at the KHP and be expandable for future competitions. "It is a beautiful site that will witness the crowning of champions yet unborn," added Nicholson.
"I want to congratulate everyone involved in this project," said Gov. Beshear, noting that the stadium combines modern amenities with an historical appearance. "Too many people to name have contributed countless hours to making the Kentucky Horse Park the success it is."

The Rolex Kentucky Three-Day Event is the premier competition for the top horses and riders in eventing. Past winners include U.S. Olympic Medalists David and Karen O'Connor, Kim Severson and Phillip Dutton, New Zealand's Blyth Tait and Nick Larkin, Pippa Funnell of Great Britain and Andrew Hoy and Clayton Fredericks of Australia.

The $350,000 Rolex Grand Slam of Eventing is awarded to any rider who wins the Rolex Kentucky, Mitsubishi Motors Badminton and Land Rover Burghley Four-Star Events in succession. In 2003, Pippa Funnell of Great Britain became the first, and to date only, rider to win the Rolex Grand Slam of Eventing.
Eventing fans will have the opportunity to watch live action from Rolex Kentucky on Pay-Per View webcasts on www.rk3de.org, featuring coverage of dressage on April 23-24 and of cross-country on April 25. Free live coverage of the show jumping on April 26 will be available online at www.universalsports.com.
Visit HorseChannel.com all this weekend for the latest Rolex coverage.