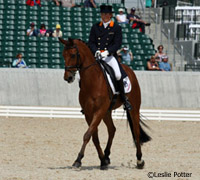 Tim Lips and Concrex Oncarlos are in first place after the first day of competition. Photo by Leslie Potter
The annual pilgrimage to the Rolex Kentucky Three-Day event has begun. Day one of two days of dressage had the Europeans taking the U.S. riders to school, finishing in the top three spots.
The
Horse Illustrated
staff had the pleasure of watching Tim Lips of The Netherlands (who also competes at the highest levels in show jumping) secure the No. 1 spot after the first day of competition. (The second half of the riders will have their dressage tests on Friday.) His mount, Concrex Oncarlos, is a 13-year-old bay Dutch Warmblood gelding, whose breeding showed as he floated across the diagonal with a lofty trot. The crowed seemed well aware that this score would be impressive, and sure enough, when 42.0 was announced he had significantly beaten Oliver Townend of Great Britain and his horse Carousel Quest, who laid in second with 45.2, as well as fellow Brit William Fox-Pitt's third-place score of 46.7.
Lips, who rode third-to-last, was all the more set apart by riding after U.S. contender Kelly Sult and her mount, Hollywood. Sult was having a steady test before encountering something that seemed to spook the 17-year-old Thoroughbred. He shied in the far corner before A, backing up several steps, and refused to move forward for a moment. Then it was back on track for them. After a few difficulties in the canter serpentine counter-canter, they ended up with a score of 69.5 to finish 24th of 25 for the day.
The highest-placed American on the first day was Jolie Sexton, who rode Killian O'Connor to an impressive score of 47.3. Still to come tomorrow will be defending Rolex champions Phillip Dutton and Connaught; German 2008 Olympic team gold pair Peter Thomsen and The Ghost of Hamish; Australian 2008 Olympic team silver pair Lucinda Fredericks and Headley Britannia; British 2008 team bronze Olympian William Fox-Pitt on his second mount, Seacookie; as well as perennial favorite Amy Tryon, German star Bettina Hoy, veteran Bruce Davidson and his son, Buck Davidson.
The day had much to offer besides dressage, too. Several of us made a detailed tour of the food stands before committing to a lunch destination. (For me it was cheese sticks, which I'll probably skip next time.) Friends from other horse-industry offices were encountered around every turn, as were fellow riders from the barn. It's handy to live in the "horse capital of the world!"
Perhaps the best facet of Rolex for many out-of-towners and locals alike is the trade fair. Practically every tack shop in the nation, it seems, comes with a trailer full of wares to display for hungry equestrian eyes. Much leather is to be touched, many shirts are to be rifled through, and bins need to be dug in. I managed to restrain myself to a single purchase: some leather polish I passed on last year and decided ahead of time to buy. Somehow I doubt I will get away that easy by the end of Sunday, however!