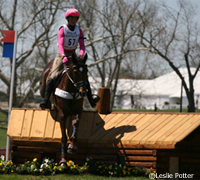 Lucinda Fredericks of Australia and Headley Britannia are in the lead at the end of cross-country day. Photo by Leslie Potter.
Follow Horse Illustrated senior associate editor Holly Werner on a first-hand account of each day's events at Rolex.
A hefty dose of time penalties for the leaders following dressage, Germany's Bettina Hoy and Ringwood Cockatoo, left the door open a crack for other competitors. Flashing by in her pink colors, Lucinda Fredericks of Australia laid down a clean cross-country course and came in under the 11:02 time allowed, and will go into show jumping on Sunday in first place on her dressage score of 32.3. Hoy was bumped to second. Fredericks' mount, the diminutive 15.3-hand mare Headley Britannia, showed eagerness and lots of heart out on course.
We personally saw Hoy and her 18-year-old gelding's herculean effort at the Double Diamond corners, where an awkward first jump put them quite far out for takeoff at the second element. It seemed like they would never make it across the span of the obstacle, but both horse and rider had more determination than seemed possible, stretching themselves out to clear it safely.
U.S. rider Buck Davidson made the crowd proud, retaining his third-place standing on My Boy Bobby with a cleanly jumped cross-country round only 3 seconds over the allotted time, adding 1.2 points to his dressage penalty score. Tim Lips of the Netherlands watched Buck on the jumbotron after having jumped clean and fast in the morning, and remains in fourth place on his dressage score going into show jumping.
Mike Winter and King Pin competing in dressage during this year's Rolex. Photo by Lesley Ward.
The day took a somber turn during the fifth ride in the morning, when Mike Winter of Canada's first mount collapsed on course after fence #10, a max height trakehner (log over a ditch), and died soon after. I did not see it happen, but early reports indicate that King Pin, a 13-year-old Irish Sport Horse, had some sort of internal rupture and bleeding into his abdomen that was apparently unrelated to jumping the obstacle. A full veterinary report is expected in the next few days. Winter had to be taken to the hospital and did not compete on Wonderful Will, his second Rolex mount. From what I saw of their early jumps (we watched them at fences 3, 4 and 5), Winter and King Pin looked very fit and strong. There was nothing to indicate to veterinarians before they went out on course that there was a problem. Both Hoy and Fredericks expressed their deepest condolences to the connections of King Pin at the press conference following the cross-country competition.
All other horses and riders had safe day. The Good Witch, ridden by Jennifer Wooten-Dafoe of California, had a fall at those tricky Double Diamonds (#22), but the mare loaded up just fine onto a trailer at the scene according to a fence judge with a radio who filled us in.
Overall, a lot of superb riding was seen. When horses approached fences on a half-stride, they all seemed fit and forward enough to get themselves out of trouble. Other than a few glance-off "runouts" on very difficult fences, you could see the partnerships between horses and riders clicking very nicely. The bounce exit from the Head of the Lake (#16 and 17) and the final element of the Sunken Road (#13d) looked particularly tricky during the course walk, but it was just amazing to see how the riders' skill and determination got the talented horses over and made it look easy! One horse that caught my eye with a particularly huge, scopey jump was Connaught, last year's winner, ridden again by Phillip Dutton (USA). Although they ended the day in ninth place, they were clear and fast around the course, and the horse was so well-conditioned and enthusiastic he looked like he could go around twice.
We also got to meet some Horse Illustrated readers while manning the booth at lunchtime. That is always exciting! Don't be shy, and come say "hi" if you're in the area on Sunday.
Overall it was a hot, sunny day with lots and lots of walking, but it was well worth the effort. As an eventer myself, I find watching upper-level cross-country one of the most amazing things in the world to witness. Although I could never jump those jumps, anyone who has the opportunity to watch them up-close gains a healthy dose of respect for the abilities of the riders and, perhaps even more so, their spectacular steeds.
For complete scores and more information, visit www.rk3de.com