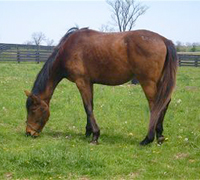 Photo Courtesy Old Friends
By now, most people have heard about the alledged charges of animal cruelty pending against prominent owner and breeder Ernie Paragallo after more than 170 Thoroughbreds were found starved and neglected at his upstate New York farm.
Many rescue groups have rallied to help, including Old Friends, the Thoroughbred Retirement Farm in Georgetown, KY. One of the ill-fated young horses found at Paragallo's farm arrived in Kentucky on April 23rd thanks to the combined efforts of Katrina Groboski of the Columbia-Greene Humane Society, Tim Ford, an Old Friends volunteer, and Morrissey's Horse Pullmans of Pawling, NY.
While little is known about the horse, he already has ties to Old Friends. He is by Aristotle out of Prospect Street, a mare by Fortunate Prospect, the well-known Florida sire who is currently pension at Old Friends. Prospect Street is also the granddaughter of Exceller, whose line was represented at Old Friends by its first retiree, Narrow Escape, a mare who passed away just last week at the age of 26.
"We were contacted about taking one of the horse and originally thought we were getting Prospect Street," said Ford. " But then Katrina called and told me there was a mistake and it was actually her 5-year-old-son. We said of course we'd take him, he had been through so much and, at 5 and unnamed, he probably didn't have much to look forward to as a racehorse or stallion."
Groboski and Ford went ahead and facilitated the adoption and Morrissey Horse Transport provided a free-of-charge ride from New York to the Bluegrass state.
"The first thing he will need is medical care, food, and love," said Old Friends founder and president Michael Blowen. "The second thing he will need is an identity. So we're initiating a contest to name this young fellow and raise money for his treatment and raise awareness of such a tragic situation at the same time.
The public is now invited to enter. A donation of $50 and a choice of moniker gets you into the game (the horse with no name is currently wearing a halter bearing the name "?"). The best name will be chosen by a formal Old Friends panel and the finalist will be announced at the Old Friends "Annual Homecoming" fundraiser being held May 3 at the Georgetown farm. Contestants can enter as many names as they like with a separate donation (all donations to Old friends are tax deductible).
After a name is chosen, Old Friends will also officially register the horse with the Jockey Club if possible, so players are advise to keep their ideas to no more than 18 characters (including spaces) and to consider already existing names.
Entries can be made via mail (1841 Paynes Depot Road, Georgetown, KY 40324), email (sylvia@oldfriendsequine.org), on the Old Friends website (www.oldfriendsequine.org), or by phone (502-863-1775), and will be considered until midnight on Friday May 1, 2009.
The winner will also receive a complimentary gift bag of Old Friends apparel and other goodies. Enter now! For more information please contact Old Friends at (502) 863 1775.