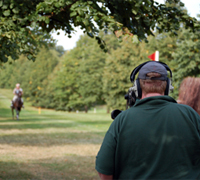 HorseTV, the first and only multi-platform television network dedicated to providing programming for a worldwide equestrian audience has announced an expansion of its global reach through the April 15th launch of the HorseTV Subscription Video On Demand (SVOD) channel on Sky Angel, a national provider of family-friendly television and radio programming.
HorseTV joins a group of mainstream media channels already part of the Sky Angel lineup, including The Hallmark Channel, Discovery Channel and Discovery Kids, Animal Planet,The Weather Channel and many more.
The Sky Angel on-demand channel adds another level of distribution for the network, which already provides programming to an international audience through its HorseTV.com television portal.
The HorseTV SVOD channel is accessible to Sky Angel subscribers by selecting the channel from the Subscription VOD menu using their television remote control. Subscription VOD channels provide viewers unlimited access to programs in the specific library for a flat monthly fee. New programs will be added to the library every month to provide an ever-changing selection of horse-related programs and series.
Some of the exciting international programs initially available from the vast HorseTV library include selections featuring the fast-action packed horse sport, Polo Lacrosse (Polocrosse), a fascinating documentary on European circus horses, an extraordinary Canadian horse trainer that "re-programs" spoiled driving horses, programs highlighting classic Hollywood stars and their horses, horse breeds and their specific use in equestrian sports and some great programs for kids. Other programs are educational, informative and inspirational, bringing an incredible array of horse world programming from the classics to the current.
"Sky Angel's Subscription VOD channels provide an exciting way to offer appealing content. Horse lovers nationwide will enjoy watching programs that highlight the best equestrian action, entertainment and horse-oriented shows the sport offers. HorseTV joins a growing "stable" of SVOD channels that brings a whole new viewing option to Sky Angel's subscribers," says Darren Moorman, Vice President — On-Demand Programming.
"We are very pleased that Sky Angel is going to be part of the HorseTV vision of bringing international equestrian sports and lifestyle to the mainstream television viewer. In so many ways, horses and their relationships with people represent the core values at the heart of the Sky Angel family – orientated programming," said Bernard Uechtritz, chairman of HorseTV.
For more information on Sky Angel visit skyangel.com.