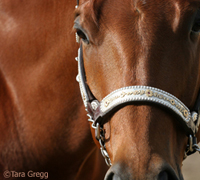 The people of Murfreesboro, Tennessee, refuse to let a tornado get them down and are telling AQHA that the show – the first-ever QuarterFest: A Celebration of the American Quarter Horse – will go on!
"This is a difficult time, but our people on the ground in Murfreesboro are dedicated to seeing QuarterFest go on as planned – as a matter of fact, they want to make QuarterFest a real tribute and a testament to the way Murfreesboro, Tennessee, residents come together even under the most difficult circumstances," said Tom Persechino, AQHA Executive Director of Marketing and Communications. "We're going, and we look forward to seeing many, many AQHA members in Murfreesboro as part of this celebration."
It's believed that there were three to five tornado touchdowns mostly in the northern and western parts of Murfreesboro earlier this month. It's estimated that at least three dozen homes were destroyed.
AQHA Directors Dave Whitaker and Roger Elder said they appreciate the outpouring of support and love and want all their Quarter Horse friends to come see how the town has pulled together despite the tragedy.
"This is just a hurdle on the road to a fabulous equine event," Elder said. "QuarterFest is going to be awesome."
QuarterFest runs May 1-3 and includes activities for Quarter Horse enthusiasts who attend with or without their horses. Several clinicians will be on the grounds throughout the weekend, including such high-profile trainers as Julie Goodnight and Bob Avila. A trade show of equine and western gear will be a highlight for many attendees. Those who do bring their horses are invited on a trail ride through the Cedars of Lebanon State Park on May 2.
For more information on the American Quarter Horse and QuarterFest, visit AQHA.com