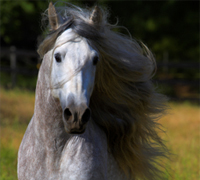 On Saturday, May 2nd thousands will join celebrities, musicians, dancers and magnificent horses at the Los Angeles Equestrian Center for the 11th Annual Fiesta of the Spanish Horse extravaganza, all in support of raising funds for cancer research.
Fiesta, a revered Southern California equestrian tradition that raises funds for cancer research organizations, this year benefits the USC/Norris Comprehensive Cancer Center and Childrens Hospital Los Angeles. It also plays an important role in integrating communities by honoring horses and people steeped in rich tradition. The four-day event features multi-breed show competitions (April 30-May 3, free to the public) and the signature Saturday evening gala.
Among the many celebrities and prominent Los Angelenos supporting Fiesta 2009 are Oscar(R) winning actress Anjelica Huston and popular actors Obba Babatunde, Leslie Charleson, J. Eddie Peck and Stefanie Powers. Disney star Miley Cyrus has generously autographed a golf car used in her new film Hannah Montana: the Movie. This priceless golf car will be raffled off Saturday evening, and many one-of-a-kind items will be part of a silent auction, including spending a day with USC's famous horse mascot as a Traveler(R) crew member at a 2009 home football game!
The Saturday evening extravaganza, a family-friendly event with many vendors and authentic Spanish food and music, features non-stop, Broadway-style equine entertainment. New to the 2009 line-up are the California Cowgirls, a multi-championship rodeo drill team, a Friesian horse performance and a special Lipizzaner horse act. There will be a rare opportunity to see a horse breed new to the US, the Costarricense de Paso (only nine of these horses are in the country!).
Visit www.FiestaSpanishHorse.org for further information.