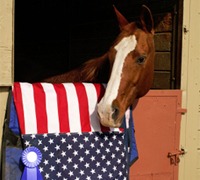 The American Horse Council is holding its annual Congressional Ride-In on Wednesday, June 17, in Washington, DC. The Ride-In will take place as part of the AHC National Issues Forum, which will focus on "The Welfare of the Horse" this year. All interested members of the horse community are encouraged to participate.
There are many federal issues that Congress deals with that impact the horse industry, including taxes, immigration, welfare, access to trails and public lands, diseases and interstate and international movement of horses. These issues affect horse owners, breeders and those who work in the industry whether they are in involved in racing, showing, recreation or working horses.
"We want as many horse owners and members of the horse industry as possible to come to Washington and meet with their Representatives, Senators and their staffs. We need to put a face on the $102 billion horse industry and the millions of Americans who are part of it," said AHC president Jay Hickey. "The most effective way to do that is through the voters, the horse people from back home who can tell Congress first hand about the horse industry in their respective states and districts and the issues that impact them."
"You don't have to attend the AHC Issues Forum to participate in the Ride-In," said Hickey. "And you can discuss any issues you want. If it is important to you and affects horses, bring it up, whether it is federal, state or local."
Anyone planning on participating in the Ride-In should make appointments with their Congressional offices as soon as possible. Contact information to schedule a meeting with your Representatives and Senators can be found at /redirect.php?location=http%3a%2f%2fwww.house.gov%2f and /redirect.php?location=http%3a%2f%2fwww.senate.gov%2f. Participants should explain they are constituents and let the office scheduler know what issues they want to talk about. It is easier for congressional staff to arrange a meeting if they know what you wish to discuss.
The AHC will conduct a free pre Ride-In briefing concerning federal issues impacting the horse industry on Wednesday, June 17 at 8:30 A.M at the Hyatt Regency Washington on Capitol Hill.
If you plan to participate in the Ride-in or want more information about how you can, please contact AHC Legislative Director Ben Pendergrass at bpendergrass@horsecouncil.org or 202-296-4031.