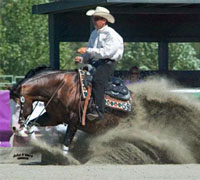 2008 Reining By The Bay Open Champions, Spooks Gotta Gun and Andrea Fappani. Photo By John O'Hara.
RBB, Inc., a promoter of reining competition in the western region of the United States, has announced their support of the Peninsula Humane Society (PHS), a non-profit organization committed to the well being of homeless animals in the San Francisco bay region of Northern California. The PHS is now the official charity of RBB, Inc.
The partnership between the two organizations kicks off at RBB's summer California event, The Reining By The Bay, this July 22-26 at the The Horse Park in Woodside, CA. Local residents are encouraged to attend and see horse and rider teams from several states compete for over $100k in cash and prizes.
Reining is the only western sport recognized in the FEI World Equestrian Games. The reining event is designed to demonstrate the athletic ability of a ranch-type horse within the confines of a show arena. Contestants are required to execute an official pattern that is generally 3-4 minutes in length wherein the horse and rider perform various maneuvers, including 360º spins done in place and exciting sliding stops that are the hallmark of the reining horse.
"We are very excited to be working with the Peninsula Humane Society at the Reining By The Bay," said Mandi Brumley of RBB, Inc. "We are looking forward to developing a lasting relationship working together for such a valuable cause. As horse owners and animal lovers, our pets are members of our families, so pet adoptions to loving homes mean a great deal to all of us. It is our hope that our reining event will benefit the PHS and send some pets home with new families!"
RBB will promote these efforts during the grand finale competition at the Reining By The Bay on Saturday July 26th, a day when the PHS will make pets available for adoption at the event. Both organizations invite area residents to attend and show support for the PHS cause, enjoy exciting competition and perhaps take home a special pet that is desperately in need of a good home.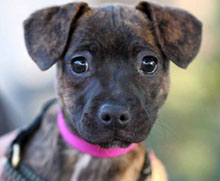 Photo Courtesy Peninsula Humane Society
PHS President, Ken White expressed his excitement at the partnership with RBB, Inc. "We're always looking for new ways to reach potential adopters and others supportive of our work and mission," said White. "We are very excited to be part of this year's Reining By The Bay event."

Admission and parking are free, so bring the entire family out to watch exciting reining competition at its finest and see the wonderful pets the PHS will have on hand for adoption! There will also be western vendors showcasing their wares for a unique shopping experience. Competition starts at 8am daily July 22-26 at The Horse Park at Woodside, 3674 Sand Hill Road, Woodside, CA. For more information, visit www.reiningbythebay.com and www.peninsulahumanesociety.org.