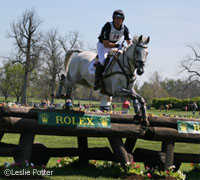 Oliver Townsend and Carousel Quest at the 2009 Rolex Kentucky Three-Day Event. Townsend won this year's Badminton Horse Trials with another mount, Flint Curtis. Photo by Leslie Potter.
The second leg of three-day eventing's grand slam is the Badminton Horse Trials, held annually in Gloucestershire, England. The first event of the grand slam is the Rolex, held at the Kentucky Horse Park, and the final competition is the Burghley Horse Trials in Lincolnshire, England.
This year's Badminton was the 60th anniversary of the event and was held from May 6 to May 10. Approximately 85 horses started with the majority of the entries coming from the United Kingdom, though competitors came from as far as Australia and Brazil. Bonnie Mosser and Merloch were the only American team competing this year.
British rider Oliver Townsend and Flint Curtis were victorious in this year's Badminton. Townsend had a clean cross-country ride and only four faults in the stadium jumping phase. Combined with his dressage score of 40.5 he managed to take the lead by less than one fault. Another Britton, William Fox-Pitt, came in second with Idalgo while Australian Sam Griffiths took third with Happy Times.
Beyond the competition itself, other events that draw spectators to Badminton include the popular Shetland Grand National steeplechase and a large trade show featuring 450 shops and food vendors.
The Burghley Horse Trials will take place in September. Any rider who wins all three grand slam events wins a bonus prize of $350,000. This feat has only been accomplished once, by British rider Pippa Funnell in 2003.