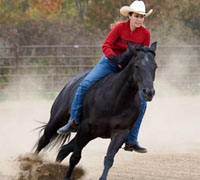 When Stacy Westfall and her black American Quarter Horse mare Whizards Baby Doll ('Roxy') earned the highest score in reining history, she was competing against the sport's elite. However, her routine was far more difficult because she did it while riding her horse both bareback and without a bridle. And then, just for fun, she did it again, winning top events while competing bareback and bridle-less, and earned herself a permanent place in reining history.
Stacy's accomplishments have earned her a feature on The Ellen DeGeneres Show as well as in numerous magazines. This summer, Stacy will perform with Roxy, the horse that ignited her career, when Roxy is honored as the 20th anniversary BreyerFest Celebration Horse!
Today, as a result of a lifetime of working with horses, Stacy can practically think like one and she is in high demand as a trainer and clinician. So Breyer is thrilled that this Mt. Gilead, Ohio mother of three will be performing at BreyerFest.
Reining, a popular equestrian discipline that shows off the athletic ability of a ranch horse with patterns and movements like flying changes of lead, 360 degree spins, roll backs and sliding stops, is the only Western discipline to be included in international competition.
BreyerFest, the annual model horse collector festival and horse fair, will be held July 17-19, 2009 at the Kentucky Horse Park in Lexington, Ky. BreyerFest has grown from a one-day collectors-only event to a bona-fide horse festival that showcases some of America's top equine talent each year. More than 7,500 people from around the world are expected for the three day event that celebrates the renowned horses that inspired the Breyer models!
The new Roxy model will be available to Breyerefest attendees who purchase a three-day pass.
Sculptor Sue Sifton has created a brand new sculpture for the portrait model that will represent Roxy and each three-day ticket holder will receive that limited edition portrait model of Roxy with their ticket purchase! Stacy will be performing with Roxy all three days of the event and she will also be available for autographs, photo sessions and meet-and-greets.
BreyerFest's unique model of equine entertainment offers plenty of activities to keep the whole family entertained from an exotic petting zoo, pony and camel rides, dog agility (Saturday only), a Trade Show, the Craft and Activity Center hosted in conjunction with the Explorium of Lexington, as well as a Model Hobby Information Booth, model horse show, workshops, lectures and seminars and lots of social activities!
For more information and to purchase tickets, please visit www.breyerhorses.com.