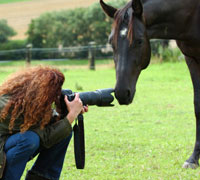 Hundreds of entries representing 9 countries and 37 states were entered in the sixth annual online equine photography contest sponsored by the Equine Photographers Network. Professional and Amateur division winners were awarded first through sixth place as well as four honorable mentions in seven categories: Performance, Horses and Humans, Head Study, Horse at Liberty, Extreme Action, Art and Black and White. Professional equine photographers, Susan Sexton and Carien Schippers presided as judges.
The top honors went to:
Best of Show Professional: "Senses"
Congratulations to Wojciech Kwiatkowski of Poland
Best of Show Amateur: "Taking the Shot"
Congratulations to Dave Boege of Illinois
Over 2600 votes were cast with the People's Choice Professional going to "Cowboy Affection" by Jill Fleming of Iowa and Amateur to "Shake it Off" by Holly Glasscock of South Carolina. Congratulations!
What the Judges are saying:
"Judging the Professional Division was overwhelming: there were too many excellent images. Those of you who did well there please know that I was humbled being in the presence of such greatness, greatness in the works and in the people who made them. It was an honor.
Everyone should be applauded for their efforts, great and small. Just entering takes some guts. I'm proud to have been a part of this year's contest. Thank you so much to all of you!"
"This contest was a pleasure to judge with many excellent entries showing a wide range of horses, equestrian disciplines and camera skills. Many of the top placing photos were an inspiration to me and will give the pro photographers a run for their money!
The overall quality of work submitted in the amateur division of the contest has steadily improved from year to year, showing good understanding of both the subject as well as the equipment."
The 2009 winning images are displayed on the contest website at /redirect.php?location=http%3a%2f%2fwww.equinephotocontest.com%2fwinners6.asp
Enter your best horse photos in Horse Illustrated's 2009 photo contest: The Spirit of the Horse.