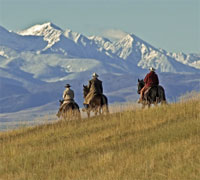 A group of national and state trail advocacy organizations representing equestrian, OHV, and bicycle interests recently completed a collaborative effort to develop a new guide called "Sharing Our Trails – A Guide to Trail Safety and Enjoyment".
The purpose of the guide is to improve safety and improve trail satisfaction for all trail enthusiasts on multiple-use trails. To quote the document itself, "In many parts of the country trails are open to and shared by equestrians , OHV riders, bicycle riders, runners and hikers. Trail sharing can and does work when people respect each other and work cooperatively to keep each other safe."
Deb Balliet, CEO of The Equestrian Land Conservation Resource stated "We all recognize that there are techniques and practices that will keep trail enthusiasts safe and improve the quality of our experiences. This guide represents the efforts of a broad range of trail enthusiasts working together to develop an understanding of each other's needs and develop a guide that specifically tells trail enthusiasts what steps to take when they meet on the trail".
Jack Terrell, Senior Project Coordinator for the National Off-Highway Vehicle Conservation Council said "Understanding other trail enthusiasts' needs, particularly when it comes to safety, is critical to minimizing conflicts and maximizing the enjoyment of all trail enthusiasts. This guide goes a long way toward promoting that understanding among everyone on the trail".
Daphne Green, Deputy Director of the California State Parks OHMVR Division stated "We are proud to work with the organizations involved in this effort to devise programs and initiatives to minimize user conflicts, increase safety, and enhance enjoyment of our public recreation opportunities".
Lori McCullough, Executive Director of Tread Lightly!, Inc. said "The Tread Lightly! ethic has always encouraged respect and courtesy between all trail enthusiasts, but conflicts still occur. This joint effort in educating all recreationists on the best practices for sharing trails shows common ground and collaboration can lead to improved trail experiences for all".
Jim Bedwell, Director of Recreation, Heritage and Volunteer Services for the US Forest Service stated "The groups that came together to produce the guide for sharing trails on our public lands are to be commended for their view of "the big picture." Outdoor recreation provides many benefits to people, communities, and the economy. An attitude of sharing increasingly scarce resources and cooperating safely is paramount to sustaining these benefits."
Tom Ward, California Policy Director for the International Mountain Bicycling Association (IMBA) said "This set of guidelines was developed after an extraordinary collaboration between equestrians, mountain bikers, hikers and motorized trail users. It includes suggested rules of etiquette, which provide understanding between users, and will create a safe and enjoyable experience for all. IMBA was pleased to be involved in this effort."
The guide can be found on the following websites:
Equestrian Land Conservation Resource (See news scroll)
Americans for Responsible Recreational Access
American Trails
International Mountain Bicycling Association
Loomis Basin Horsemen's Association
National Off-Highway Vehicle Conservation Council
Tread Lightly!
United Four Wheel Drive Associations
Read on for more information on safe trail riding >>