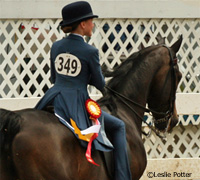 On October 16, 2009, the American Morgan Horse Association (AMHA) Youth Council will be holding a charity event, "Just in Time For a Cure," at the Grand National & World Championship Morgan Horse Show in Oklahoma City. In tandem with the Shirley Bowman Nutrition Clinic at the University of Oklahoma (OU) Cancer Institute, the event will raise cancer awareness and educate horse world members on the importance of cancer screening.

Several horse shows have banded together to support the nutrition clinic honoring a horse friend, Shirley Bowman, who lost her battle with cancer in 2004. The OU Cancer Institute is the only comprehensive academic cancer center in the state and provides cancer treatment, including chemotherapy and radiation therapy, to patients regardless of their financial situation. The Shirley Bowman Nutrition Clinic assures patients that they can consult with a registered dietician at no cost, an important component to treating cancer since proper nutrition is vital to fighting this disease.

All youth classes on October 16 will be ridden in honor of the charity event and the youth council will have an informational booth. Health care professionals from the OU Cancer Institute will be available to educate visitors and provide important information about free cancer screening opportunities. Oklahoma residents who meet eligibility requirements will be given vouchers for free mammograms and colonoscopies to promote cancer screening. Donations will be accepted throughout the week and honorary signature items will be available for purchase to benefit the Shirley Bowman Nutrition Clinic.

Come join the Morgan breed and fellow Oklahomans at the Justin Time For a Cure event to help improve the lives of cancer patients.

For more information about the OU Cancer Institute, visit www.OUCancer.org.

The Grand National & World Championship Morgan Horse Show will showcase many of the world's best Morgan horses in competition beginning Saturday, October 10 through Saturday, October 17 at the Oklahoma State Fairgrounds in Oklahoma City. Log on to www.morgangrandnational.com for more information.