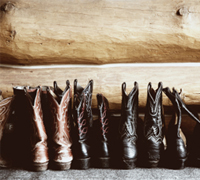 The American Paint Horse Foundation needs your help to give kids a leg up on life by donating new or gently used cowboy boots for young riders.
The Foundation, a non-profit organization dedicated to improving lives through interaction with horses, recently joined forces with Camp Carter YMCA in Fort Worth, Texas, to educate children about horses and get them in the saddle. Safe footwear is an important part of the process, and the boot drive will help accomplish the goal of introducing children to the world of horses.
YMCA Camp Carter saddles up several thousand children each year for horse riding lessons, equine education and trail riders. And, their need for boots is great. For more than 50 years, the camp has been a popular retreat for children of all ages.
Once the American Paint Horse Foundation collects enough boots for the local YMCA, it plans to donate boots to other YMCA and related equestrian centers as well.
Both children's and adult size cowboy boots, with heels, are needed. Donors can drop their boots off to help this worthy cause either at APHA's Headquarters, 2800 Meacham Boulevard, Fort Worth, Texas, or during the Summer World Championship Paint Horse Show at Will Rogers Equestrian Center in Fort Worth.
Or cowboy boots can be mailed to:
American Paint Horse Foundation
"Leg Up on Life"
2800 Meacham Blvd.
Fort Worth, TX 76137
For more information on the boot drive, please contact the American Paint Horse Foundation at (817) 834-2742.