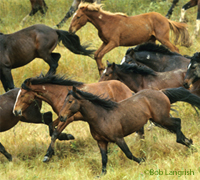 There has likely never been anything like it. A test of horses with only 90 days training in the controlled environment of an arena competition, with the added challenge of a rural and urban trail course. It was, however, something that Extreme Mustang Makeover visionary Patti Colbert had in mind when the Norco Extreme Mustang Trail Challenge kicked off on May 15 in Norco, Calif. What she didn't know was how strongly the city of Norco would respond to the event, and respond it did, with hometown trainer Buzz Riebschlager taking the win.

But these weren't just any horses. These were mustangs, gathered in Nevada and picked up by 29 trainers in Ridgecrest, Calif., in February. The challenge, which had percolated in the minds of Colbert, who serves as the Mustang Heritage Foundation Executive Director and former Norco mayor Harvey Sullivan since 2007 when Norco trainer Ray Arris wowed Norco and the 2007 Extreme Mustang Makeover audience with the transformation of Hail Yeah, a mustang who is now the official Norco city mascot.

"Norco is Horsetown USA for a reason," said Colbert. "This city of a little more than 20,000 people is passionate about horses and what horses do for man. So, when Harvey said he'd like to see a mustang event come to Norco, I knew it needed to be one that honored the traditions of this great city and would really show with the American Mustang was capable of."

The elements of the event including those that have been in all Makeovers since the competition began in 2007; body conditioning, an in-hand obstacle course and a mounted horse obstacle course. Added to that, though, was a demanding rural trail challenge, that climbed to 1,200 feet over rugged terrain, along with an urban trail challenge, that wove through the streets of Norco and included barking dogs, llamas, busy intersections and a riverbed crossing.

"When we designed the trail courses, we did so with two things in mind; make it challenging and keep it safe," said Sullivan. "The city has a designated riding trail along most of its 'old town' streets, so it was easy to map that out, realizing that these horses had likely never seen anything like that before. The rural trail challenge included trails that the folks here in Norco ride frequently, but again, could be a challenge for a young horse."

A total of 25 horses, all mares, made their way to the competition — four of them with foals by their sides ranging from three weeks to two months in age.

For them, in addition to the Trail Challenge, the Mustang Heritage Foundation hosted a $2,000 Mommy and Me class complete with baby shower. Taking the win in that class was Mustang Sally and her three-week old filly Delilah, a fiery bay, trained by Bob Mundy of Norco and winning $800. But the real test for this working mom was the trail challenge events held May 15 and 16.

Taking a commanding lead early on in the competition was Lanny Leach of Tucson, Ariz., riding a three-year-old brown mare he named Soso gathered from the Nevada Wild Horse Range. The duo was the high scoring pair at the conclusion of both series and were the heavy favorites going into the finals May 16.

"Soso has one of the biggest hearts I've ever seen in a horse," said Leach, who along with his son, Logan, Leach operates a training center in Tucson and had competed in the 2008 Extreme Mustang Makeover in Fort Worth. "She'll make a good horse for someone and already shows a lot of potential."

The Final Round
Riebschlager, though, was quietly watching his competitors and making sure he had to do what was necessary to qualify for the top ten finals Saturday, May 16. With a crowd of 2,000, of mostly Norconians, looking on, the top 10 finalists brought their best game, which required compulsory moves of a walk, jog, lope or canter, as well as circles to the right and left lead along with a 360 degree spin or turn to the right and left. Other than that, the trainers could bring whatever they thought would showcase their horses talent.
Drawing up last in the competition, Riebschlager finally unveiled the full force of his routine that his fellow citizens had only caught glimpses in the past weeks as he ponied Windy through town at first and then began to ride her. He did his best to keep the rest of the routine a secret.
Entering the arena with Windy standing in a flat bed trailer and being pulled by a truck. Riebschlager twirled an American flag around Windy's head before guiding her to leap from the trailer to the arena floor. Windy worked the arena like a pro, performing a relaxed and smooth reining pattern, with large circles and several easy flying lead changes, Then it was on to play a few games, as she picked up her knees to move a large ball across the arena floor and then acted totally nonplussed as Riebschlager rode her through the colorful, waving arms of an inflatable balloon. Far from another day on the range, the three-year-old brown mare gave little regard to the obstacles and then gamely leapt back aboard the flat bed trailer to leave the arena with a regal flare.
To say the crowd of about 2,000 went wild hardly begins to describe their reaction as judges Ken McNabb and Mark Lyon awarded the pair the highest marks of the evening and the win, along with $3,000.
Taking second and $2,000 of the $10,000 purse was Jessie Jane, a four-year-old sorrel mare whose bridleless routine with trainer Lorrie Grover of Corpus Christi, Tex., in the saddle left the crowd breathless.
"This was an outstanding competition with just the right mix of trainers," said MHF event coordinator Randi Blasienz, "but, of course, the ultimate goal of the events are to get horses placed for adoption and these horses really showed they were highly marketable animals."
All 25 mustangs were adopted for an average price of $1,910 per head. The high-adopting horse was She's Country, a four-year-old brown mare trained by Logan Leach of Tucson, Ariz., who placed third and adopted for $4,700. Windy was adopted for $3,750.
The Mustang Heritage Foundation (MHF), in partnership with the U.S. Bureau of Land Management (BLM), created the Extreme Mustang Makeover events to highlight the recognized value of American Mustangs through a national training competition. The event gives the public a unique opportunity to see the results of wild horses becoming trained mounts and then participate in a competitive bidding process to adopt one of these treasured animals. The purpose of the competition is to showcase the beauty, versatility, and trainability of these rugged horses that roam freely on public lands throughout the West, where they are protected by the BLM under Federal law.
For more information, visit wildhorseandburro.blm.gov or call 866-4MUSTANGS.