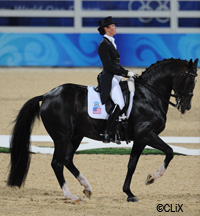 Ride for Life performer Courtney King-Dye and Harmony's Mythilus at the 2008 Olympics. Photo by CLiX.
The Potomac Valley Dressage Association (PVDA) has confirmed Courtney King-Dye, Michael Barisone, Cathy Morelli and Betsy Steiner as Dancing Horse challenge performers on the evening of Saturday, June 27 at their weekend-long PVDA Ride for Life™ Dressage Show.
The International-level equestrians will ride their horses to music for a chance to win the Dover/Nutrena People's Choice Award and Rosenthal Land Rover $5,000 Trophy at the annual charity to support The Johns Hopkins Avon Foundation Breast Center.
Courtney King-Dye represented the United States as a member of the 2008 Olympic Dressage Team and at the 2007 and 2008 World Cup. She has earned many USDF Regional Championships and Reserve Championships at every level of competition and USDF Horse of the Year Awards.
Michael Barisone represented the United States as alternate for the 2008 Olympic Dressage Team and in 1998 and 1999 as a member of the USET Developing Rider Tour, where he won Team Gold and then Silver at the Nations Cup in Hickstead, England.
Cathy Morelli is a breast cancer survivor and USET member, representing the United States at the 1990 Volvo World Cup in s-Hertogenbosch, Holland.
Betsy Steiner is an American World Championship team member and has served the U.S. Olympic Committee, in her roles as the equestrian representative on the Athlete's Advisory Council and as the chairman of the Active Competitor's Committee.
"The reason I get involved with causes like this is that I have lost a sister to cancer. To watch someone you love suffer so much and feel so helpless is a terrible feeling. I said then, that I wanted to help if possible to touch a few people's lives and see if I can make a difference. This is an amazing cause and I am proud to be a part of it," says Debbie McDonald, celebrity PVDA Ride for Life™ Gala speaker and Dressage Olympian.
Now in its sixth year, the PVDA Ride for Life™ has already raised over $161,000 in rider donations and sponsor contributions for The Johns Hopkins Avon Foundation Breast Center in Baltimore, Maryland.
Saturday evening's Dancing Horse Challenge has become one of the largest equestrian freestyle performances in the Mid-Atlantic Region and is popular with both the sport horse and non-equestrian communities in the area.
The show is held at the Prince George's Equestrian Center in Upper Marlboro, MD outside of Washington, D.C. and hosts over 200 competing horses.
For more information about the PVDA Ride for Life™, visit www.pvdarideforlife.org or contact Hilary Moore at (703) 400-9108 or marketing@pvdarideforlife.org.